Nintendo Wii moves toward retirement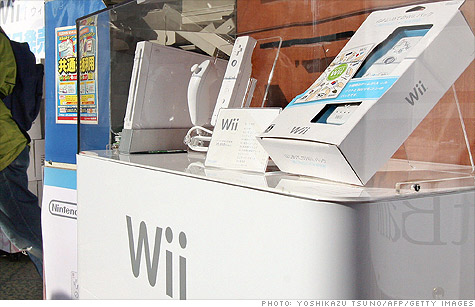 NEW YORK (CNNMoney) -- The Wii, once the cutting edge of video game technology, is headed the way of the Atari 2600 and the Sega Genesis.
Nintendo Co. Ltd. said Monday that it plans to replace the Wii with a new system in 2012. The video game maker said it will "show a playable model of the new system" at the E3 Expo in Los Angeles from June 7 to 9.
The company said it will reveal more information about the new game system at that time.
Nintendo said it has sold more than 86 million units of the Wii, a system that relies on hand and body movement, since its launch in 2006. Going forward, the company said it has not included sales of the new system in its financial forecast for the fiscal year ending in March 2012.
The new system could help the flagging Japanese company. It announced that net sales dropped 29% during the fiscal year ended March 31, with net income plunging 66%. That was worse than the year before, when net sales fell 22% and net income dropped 18%.