Shareholder proposals companies don't want you to see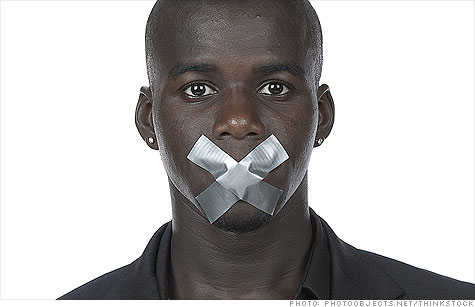 NEW YORK (CNNMoney) -- Once a year, public companies have to throw open their boardroom doors and meet with their investors. Those annual meetings give small stockholders a chance to bend the ear of corporate bigwigs, and put their own proposals up for a shareholder vote.
But this year, investors in dozens of major companies won't be voting on more than 150 proposals that shareholders tried to put on their ballots. For the past few months, companies have been flooding the U.S. Securities and Exchange Commission with petitions to kill off hundreds of proposals.
"Some of the proposals are pretty off-the-wall," says Ted Allen, governance counsel for shareholder advisory firm ISS Governance. "Others are legitimate. But companies don't want 20 shareholder requests cluttering up their proxies."
It's an annual rite of spring for companies with activist shareholders. Confronted with proposals they don't want on their ballots, they petition the SEC for what's called a "no action" letter -- a written affirmation that the regulatory agency won't take enforcement action if the proposal never sees the light of day.
The SEC employs about 20 staffers who wade through hundreds of these no-action requests per year. The agency grants companies many of their requests, Allen says, because the shareholder proposals "relate to a company's ordinary business." That is, companies don't have to put up for a vote shareholders' suggestions about their day-to-day workings.
"GE used to get proposals about canceling 'The Rachel Maddow Show,'" Allen says. "That's a clear-cut example of the type of thing the SEC doesn't let shareholders get their hands in."
Only a few major companies receive double-digit shareholder proposals annually: Bank of America (BAC, Fortune 500), Exxon-Mobil (XOM, Fortune 500) and Wal-Mart (WMT, Fortune 500), to name a few.
But tech companies are consistently targets.
"Telecoms get a lot of proposals because of their history of unionized employees," Allen says. "And Net neutrality proposals have been big recently, though companies have usually been able to classify that as 'day-to-day business' or 'not a top policy priority.'"
Most companies end up letting their shareholders vote on just two or three issues. A few topics frequently make it through the gauntlet to land on ballots. One of the most common proposals suggests giving shareholders the power to call special meetings. Other frequent propositions call for giving shareholders the ability to remove directors, or elect new ones, without waiting for a special meeting.
But most petitions die quietly, before shareholders ever get a peek at them. Here's a look at some of the more noteworthy proposals tech companies have tried to quash this year.
Nuns, the Beastie Boys and AT&T: The Benedictine Sisters of Mount St. Scholastica filed a shareholder proposal in November asking AT&T (T, Fortune 500) to "publicly commit to operate its wireless broadband network consistent with Internet network neutrality principles."
It turns out that the St. Scholastica Monastery in Kansas owns more than $7,400 worth of AT&T stock. Other Catholic monasteries around the country joined the cause, filing their own requests.
A few individuals also petitioned AT&T, including "Mike D" of Beastie Boys fame. AT&T did not respond to a request for comment.
Jonas Kron, a vice president at Trillium Asset Management, served as the contact person for the proposal.
So why do nuns care about such a geeky issue?
"Net neutrality can greatly affect underserved communities that have limited access to the Internet. We need to alleviate those social inequalities," Kron said, noting that the U.S. Conference of Catholic Bishops has published an open letter supporting Net neutrality.
Unfortunately for the nuns and Mike D, the SEC granted a no-action letter on the basis that net neutrality is not "a significant policy issue." Kron called the decision "shocking" and said the group "vigorously disagrees."
Down with Yahoo China: In January, a Yahoo (YHOO, Fortune 500) investor named Jing Zhao proposed that the company adopt a code of human rights principles.
His "Human Rights Impacts of Yahoo Business" would mandate that "no information technology products or technologies will be sold, and no assistance will be provided to authorities in China and other repressive countries."
Zhao, who was born in China, told CNNMoney that he has had "major concerns about U.S. business' dealings" with the nation for years. He has attended the annual Yahoo shareholder meeting annually since 2005, and he's made similar human rights proposals to Yahoo every year.
In response, Yahoo requested to block the proposal from its proxy based on several exceptions. But this time, the SEC replied that it was "unable to concur" -- which means the proposal should appear in the proxy statement Yahoo will send to shareholders in advance of its annual meeting.
"I was really shocked," Zhao said. "It's a wonderful year for me."
He also said that a Yahoo rep contacted him recently to apologize for trying to fight the proposal. Yahoo declined to comment.
Church against gender identity discrimination: The Unitarian Universalist Association of Congregations asked Verizon (VZ, Fortune 500) in November to "amend its written equal employment opportunity policy to explicitly prohibit discrimination based on gender identity or expression."
The UUA, which calls itself "a faith community of more than 1,000 self-governing congregations," noted in its proposal that nearly 70% of Fortune 100 companies have policies prohibiting gender identity discrimination. It also pointed out that a similar policy suggestion filed at last year's annual meeting drew support from those casting the votes for 34% of Verizon's outstanding shares.
Tim Brennan, the UUA's treasurer and chief financial officer, said that "affirming the value of all people" is a major part of the group's religious views. The UUA has successfully petitioned Home Depot, Dr. Pepper and Traveler's Insurance to change their human rights policies.
But the SEC nixed UUA's proposal on a technicality: The group failed to provide proof of its eligible shareholder status within a required 14-day window. Verizon declined to comment.
Brennan is undeterred. "I'm planning to write to a bunch of their executives and ask if they'll talk to me about it," he said. "I'm open to any dialogue, and we're not giving up."