Wael Ghonim to leave Google, start NGO in Egypt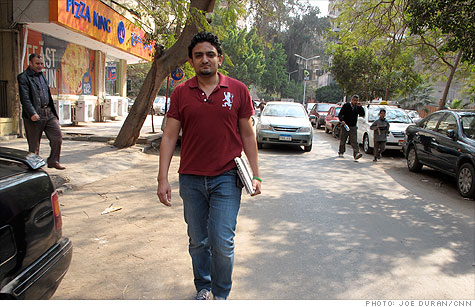 NEW YORK (CNNMoney) -- Wael Ghonim, a Google executive who shot to international prominence after being detained for 10 days in Egypt, is leaving the search company to start his own venture.
Ghonim tweeted on Saturday: "Decided to take a long term sabbatical from @Google & start a technology focused NGO to help fight poverty & foster education in #Egypt"
As protests broke out in January on the Egyptian streets over the rule of then-president Hosni Mubarak, Ghonim fired off a steady stream of messages to Twitter and Facebook about the uprising. He also worked behind the scenes to galvanize the uprising.
"The plan was to get everyone on the street," he told CNN's Ivan Watson in an interview after his release. "This is the Internet revolution. I'll call it revolution 2.0."
Ghonim's sudden disappearance had his friends and family -- and, soon, the whole world -- fearing for his safety. Google (GOOG, Fortune 500) posted many tweets in his support, and assured Ghonim that his job with the company would be there when we was ready to return.
Soon after his release, Ghonim tweeted a "thank you" to Google for its aid: "Thanks @Google for all the efforts you did in 'searching' for me. Today 'I'm feeling lucky' that I work for this company."
Though he tweeted "Please don't make me the face of this revolution," Ghonim became a symbol of the uprising after his disappearance. He was named last week to Time magazine's 100 most influential people of the year.