Aflac duck gets a new voice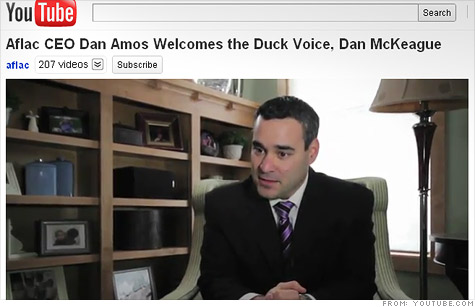 NEW YORK (CNNMoney) -- The chief executive of Aflac sat flanked by his top lieutenants, a bronze duck on his desk, as he broke the news.
But before he announced the winner of a nationwide search to replace Gilbert Gottfried as the very distinctive voice of the insurance giant's mascot duck, he wanted to hear it one more time.
"Aflac! Aflaaac!," cried Dan McKeague, a 36-year-old father of three from suburban Minneapolis.
McKeague, a sales manager at a local radio station with some experience doing voice overs, was one of the many hopeful celebrities, voice over artists and average Joes that submitted over 12,500 live and online auditions to provide the distinctive voice of the Aflac Duck.
In a video posted Tuesday on YouTube, the CEO of the Georgia-based company, Daniel Amos, and two other senior executives are shown offering the job to McKeague over the phone. McKeague, wearing a dark suit and tie, gratefully accepts the job from what appears to be his home.
The announcement, "Aflac Duck Gets its Quack Back!," comes after Gottfried, a comedian, was discharged earlier this year for making inappropriate comments on Twitter about the recent earthquake and tsunami in Japan.
The episode was particularly unfortunate for Aflac, which does nearly three-quarters of its business in Japan. A pair of Japanese and American flags featured prominently on Amos' desk in the video.
To replace Gottfried, the company launched a month-long campaign, holding live auditions in six major cities across the United States and accepting online submissions at quackaflac.com.
The company has been running television and radio ads featuring the Aflac Duck for over a decade. In most cases, the duck encounters some unfortunate circumstance, such as being hit by a car, in which feathers fly and the bird squawks out the insurance company's name in Gottfried's grating voice.
The campaign has helped increase Aflac's brand recognition from 10% in 2000 to 93% now, according to the company.
In its search for a new voice, Aflac's goal was not only to find a candidate with the right vocal abilities, "but one who could also represent the philanthropy and the ethical values embraced by Aflac's employees and thousands of independent sales agents across the nation," the company said.
McKeague, who is also on the board of a non-profit in St. Paul that helps ensure child safety, fits this bill (pun intended), according to Aflac chief marketing officer Michael Zuna.
"Dan impressed us with his vocal range and acting ability," Zuna said in a statement. "He understands that he is making marketing history representing our company, our 72,000 independent sales agents and our well-earned reputation as a company that does business the right way."
Aflac (AFL, Fortune 500) said McKeague will make his debut "immediately" in a commercial entitled "Pigeon," which will be posted later on the company's Facebook page.