Wealthy investors add art startups to their collections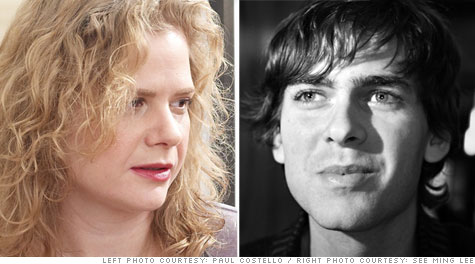 NEW YORK (CNNMoney) -- With investors flinging cash at nearly every tech venture that pops up on their radar, it was inevitable that the money would eventually land in a niche not exactly renown for its business models: the art market.
A glittering collection of wealthy backers -- including Google Chairman Eric Schmidt, Twitter co-founder Jack Dorsey, venture capital powerhouse Jim Breyer and Wendi Murdoch -- have invested more than $1.4 million in Art.sy, a Pandora-style art discovery engine and shopping site slated to launch within the next few months. Devised by 24-year-old developer Carter Cleveland, the site is staying stealthy about its plans, but it will target the same audience that is backing it: deep-pocketed collectors.
Tech ventures are also rushing into the more affordable end of the market. Gallery owner Jen Bekman launched 20x200, which sells limited-edition prints online starting at $20, back in 2007. Two years later, venture capitalists plowed $2.9 million into her company.
"I think the market is ripe for disruption and simplification. It's way too complex currently," Art.sy backer Dorsey told CNNMoney.
Chris Dixon, who has invested in both 20x200 and Art.sy, agrees: "It's a huge market, and it's one that has been relatively untouched by the Internet."
'The last frontier'
Artsicle co-founder Scott Carleton, 25, is among the entrepreneurs trying to change that. "It's kind of the last e-commerce frontier from our end," he says.
The New York startup offers customers a "try before you buy" system, allowing subscribers to rent artwork for $50 a month. If they like the item, they can buy it; if they don't, they send it back and test drive a new piece. Launched March 1, the site is currently seeking investors for a seed round of funding.
Carleton's pitch to them: "Technology can influence and disrupt an industry that hasn't been changed in 400 years."
Bekman was a pioneer at the intersection of art and tech. She launched her venture on a shoestring budget just before the recession hit, after years of running a gallery in the the Lower East Side.
"Traditionally, you think of collectors as being very wealthy and the artist that's starving," says Bekman, who spent a decade working in the Internet industry before switching to art. "I always thought there's something wrong with those extremes."
Enter 20x200. The site features limited edition photos and artwork in various sizes and price points, typically running from $20 to $5,000. Bekman splits revenue with the artists, 50/50.
The concept was an instant hit. Bekman says 20x200 has been profitable since it launched, and was already $1 million business before it took on investors. In 2010, the company brought in $2.5 million.
"Our business has been steadily doubling year-over-year since we launched," she says. The site has already sold more than 115,000 prints.
Those kinds of economics have investors excited.
"If you're able to help facilitate transactions, you're usually able to figure out a way to make money," says Dixon, one of the site's financial backers.
Art.sy has yet to launch, but hype around the New York-based startup is building fast. Cleveland was recently featured in The Startup Kids, a documentary about young entrepreneurs around the world.
Although the site isn't yet open to the public, it's planning a preview for the collecting community in June at the Art Basel show in Switzerland -- a high-end beta test among the art world's elite.
Carleton expects more of them to get the tech bug. "If someone can figure out how to bring art to the masses, they could stand to make a lot of money," he says. Estimates put the art market at around $40 billion annually.
Bekman hopes online innovation will expand it even further. She wants to bring the mass audience into a world too often perceived as inaccessible.
"To me, we'll be successful at the point where people talk about their art collections like they talk about the last movie they saw," she says.