Bond yields up on Bernanke's inflation concerns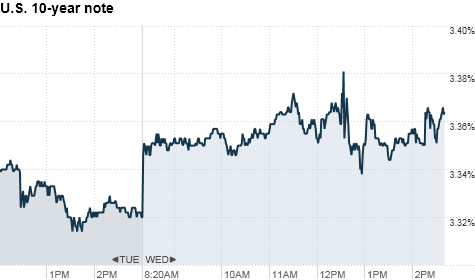 NEW YORK (CNNMoney) -- Treasury yields edged higher Wednesday, following comments about inflation concerns from Federal Reserve chairman Ben Bernanke.
The price on the benchmark 10-year U.S. Treasury note edged lower, with the yield rising to 3.36% from Tuesday's yield of 3.32%. U.S. 10-year Yields hit their lowest level in a month on Tuesday.
The yield on the two-year note rose to 0.66%, the 5-year note's yield stood at 2.02% and the U.S. 30-year bond's yield rose to 4.46%.
Bernanke, at his first-ever press conference on Wednesday, said that while he believes inflation remains temporary, it does complicate the bank's ability to do more stimulus if necessary.
Bernanke said the bank will end its $600 billion quantitative easing program at the end of June as scheduled.
The chairman said he doesn't expect the Fed to take up a third round of quantitative easing, saying the "trade offs" of any QE program outweigh the economic benefit.
"The inflation picture today is completely different than the one the Fed had back in August [when it started its $600 billion program]," said Mike Pond, chief fixed income strategist with Barclays Capital.
Wednesday's press conference was part of a broad move by the Fed to be more open in its operations both to investors and the general public. They are expected to scheduled quarterly.
While Bernanke and other central bankers believe inflation is temporary, the Fed raised its 2011 inflation forecast. The Fed now sees overall prices to increase 2.1% to 2.8% year over year, significantly more than the 1.3% to 1.7% increase the bank had previously expected.
"Our expectation is that inflation will come down toward a more normal level but we'll be watching that carefully," Bernanke told reporters.
Earlier the Federal Reserve said it would keep interest rates unchanged.
The central bank's Federal Open Market Committee said it would keep interest rates between a range of 0% to 0.25%, the same levels rates have remained at since December 2008. In its statement, the Fed said that while energy and food prices rose in recent months, inflation concerns remain tame.
"The Committee expects [inflation] to be transitory, but it will pay close attention to the evolution of inflation and inflation expectations," the Fed said.
The decision and outlook was widely expected by investors.
"The statement was very consistent with expectations, with what various Fed officials had said, over the past month or so," Pond said. "It was maybe slightly more dovish because there was little acknowledgement of heightened inflation expectations, but overall the statement was very much what was expected."