Economic slowdown: Blip or start of a dip?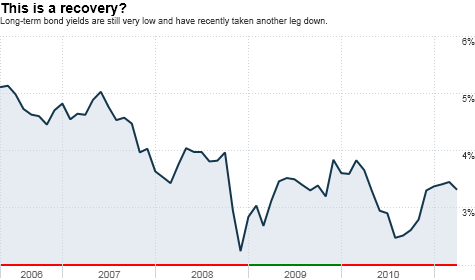 NEW YORK (CNNMoney) -- Today's economic password is ... "transitory."
That is how Federal Reserve chairman Ben Bernanke likes to describe all those financial bugaboos that many consumers and investors are worried about.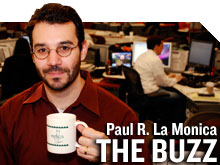 Higher commodity prices, a weak dollar and sluggish growth in gross domestic product? All transitory. Fleeting. Ephemeral. We'll look back at $113 a barrel oil and 1.8% GDP in a few months and laugh about how scared we were.
But what if, dare I say it, the recent economic weakness persists? Maybe this is not a first-quarter or first-half of the year phenomenon but the start of a more pronounced slowdown. It doesn't have to be another recession, mind you. It may be a period where weak growth is simply the new reality.
"There seems to be a disconnect between what the Federal Reserve is seeing and what the average person out there is experiencing," said Kimberly Foss, founder and president of Empyrion Wealth Management in Sacramento, Calif.
The recent spike in jobless claims is not a great sign either. Initial claims have been above 400,000 for three consecutive weeks. That could be an indication that the recovery in the job market may also be transitory.
The good news, if you will, is that a weaker labor market probably means that Bernanke is right about inflation. Commodity prices by themselves don't tend to lead to long-term bouts of inflation. You need higher wages for that.
The bad news though is that even if inflation isn't here in the classic textbook sense, people are still stuck paying more for important items like food and gas at a time when wages aren't going up.
Try telling a working mother and father with two kids who haven't received a raise in a while that a more expensive supermarket bill is just transitory.
"If we continue to have high energy prices as we get into the summer, it could have an impact on consumer spending habits," said Michael Materasso, senior vice president of the fixed-income group at money manager Franklin Templeton in New York.
And if people do start tightening their purse strings to cope with higher commodity prices, that could mean more numbers like Thursday's GDP reading are in the cards.
"I would agree with Bernanke on inflation not lasting. That makes sense," said Frances Hudson, global thematic strategist for Standard Life Investments in Edinburgh, Scotland. "But employment is not picking up as fast as you'd hope for. It's possible that GDP for the rest of the year will be similarly sluggish."
The bond market, which often is a better barometer of the economy than the more emotionally-driven stock market, also is flashing a yellow caution sign for the economy.
Fixed-income investors actually appear to be taking Bernanke at his word about inflation. Long-term bond rates remain relatively low, with the 10-year U.S. Treasury yielding 3.31%. That's down from 3.62% a little more than three weeks ago.
Bond prices and yields move in the opposite direction. So longer-term bond yields tend to march higher when the economy is growing at a healthy clip. People aren't interested in buying bonds in good economic times because riskier assets like stocks are more rewarding.
So as long as long-term rates remain low -- i.e. people are buying bonds -- that's an indication that bond investors don't really believe the recovery will be all that robust.
"Economic numbers may swing from day-to-day and quarter-to-quarter. But the rate of growth will probably be subpar this year," said Robert Tipp, chief investment strategist for Prudential Fixed Income in Newark, N.J. "Interest rates are likely to remain around levels they are at now and could decline."
Of course, it's not all doom and gloom. Slow growth is still growth. Some of the double-dip recession talk seems more than a bit alarmist.
"We may live in an instant gratification society but people have to be patient. We will get through this," said Foss.
That's true. The problem though is that many people -- including some members of the Fed -- may have unrealistic notions on how fast the economy can grow.
There are just too many short-term and "medium-term" (to use another Bernanke-ism) challenges in the U.S. right now. There's the looming debt ceiling debate and federal deficit problem, first and foremost.
Tipp said that a reduction in government spending -- while needed -- will put more pressure on Corporate America to use their record profits to boost hiring and investment in order to get the economy on a sustainable growth path.
"Assuming steps are taken to reduce the deficit, growth could likely be pushed down by that. But it's an open question as to whether the private sector will pick up the slack," he said.
With that in mind, we might have to get used to a GDP growth rate closer to the 2% than the more than 4% or so rate we got used to in pre-Great Recession times.
"Before the financial crisis, higher GDP rates were predicated on huge amounts of debt. That's changed," Hudson said. "We need to adjust our expectations or going through all this pain will be for nothing if we've haven't learned from it."
The opinions expressed in this commentary are solely those of Paul R. La Monica. Other than Time Warner, the parent of CNNMoney, and Abbott Laboratories, La Monica does not own positions in any individual stocks.