Microsoft profit soars 31% on strong Office and Kinect sales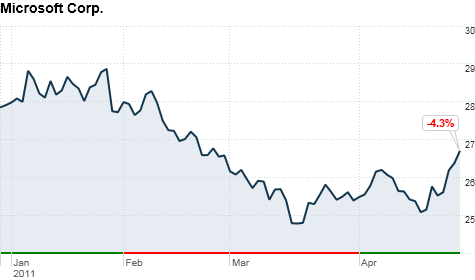 NEW YORK (CNNMoney) -- Microsoft likes to talk about how its business doesn't rely on personal computer sales to consumers. It proved the point this quarter.
While consumer PC sales dropped 8%, Microsoft's profit rose 31%. The company's overall sales were up 13%, to $16.4 billion.
"Despite the mixed PC environment, we delivered strong results," Todd Setcavage, Microsoft's new director of investor relations, said in an interview right after the company's earnings announcement. "It really speaks to the breadth of our businesses."
Windows sales dropped 4%, and earnings from that division sank 10% in the quarter ended March 31.
Normally, that would spell trouble. Investors have long feared that Microsoft does not have a solid sales driver for the post-PC world. Smartphone sales are outpacing PCs, and tablets have begun to steal market share away from laptops and especially netbooks. At the moment, Microsoft isn't seriously contending in either tablets or smartphones.
But Microsoft's other products helped save the day.
Sales of the Xbox and the controllerless Kinect add-on were incredibly strong. Revenue in Microsoft's entertainment division rose 60% to nearly $2 billion, as it sold 2.7 million Xboxes and 2.4 million Kinects.
Server products like Sharepoint also helped drive sales and profit, with revenue in that division rising 11%.
Businesses are continuing to refresh their outdated hardware, sending corporate PC sales up 9% during the quarter. That helped Office sales skyrocket 21%. Businesses are deploying Office 2010 at a rate five times faster than they adopted the previous version, Office 2007.
There's more non-PC-related success coming in the future, too: Microsoft signed an agreement with Nokia (NOK) during the quarter that both Gartner and IDC predict will make Windows Phone the second most-used mobile operating system behind Google's (GOOG, Fortune 500) Android by 2015.
On the other hand: It wasn't all good news, and shares of Microsoft (MSFT, Fortune 500) slipped 2% after hours.
Sales of netbooks fell a stunning 40% in the quarter, and Windows still hasn't deployed on enough tablets to be taken seriously as an iPad or even an Android competitor.
Windows sales also would have been much worse had corporations not doubled their deployment of Windows 7 in the past six months. When the current business refresh cycle ends, consumer demand may not be there to pick up the slack.
Online search engine Bing posted yet another hugely disappointing quarter, losing $726 million in the quarter and nearly $2 billion in nine months. Despite steady share gains in search and a partnership agreement with Yahoo (YHOO, Fortune 500), Microsoft's relative revenue is disappointing compared to its competition, and Microsoft still has yet to turn a profit in that five-year-old unit.
Overall, the Redmond, Wash., software giant said its fiscal third-quarter net income rose to $5.2 billion, or 61 cents per share, for the period ended March 31. Results included a one-time tax benefit of 5 cents per share. Without the benefit, Microsoft earned 56 cents per share.
Analysts polled by Thomson Reuters, who typically exclude one-time items from their estimates, had forecast earnings of $4.8 billion or 56 cents per share.