Eager buyers line up for white iPhone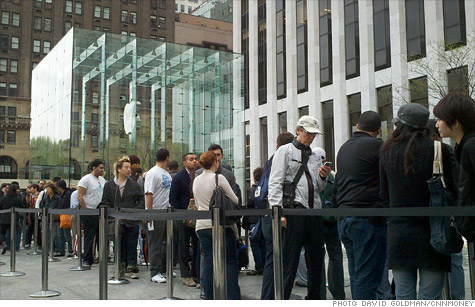 NEW YORK (CNNMoney) -- Think the most anticipated iPhone 4 of 2011 was Verizon's? Bzzt.
Based on one totally unscientific data point -- the number of people who got up early to camp out in front of Apple's flagship store on Manhattan's Fifth Avenue -- the mythic white iPhone won hands-down.
Forty-five early risers were on line at the Apple (AAPL, Fortune 500) store to snap up the long-awaited white iPhone 4 on Thursday. The store is open 24 hours, but the white iPhone didn't go on sale until 8 a.m.
The Verizon (VZ, Fortune 500) iPhone, which went on sale in February, got off to a much quieter start. Just eight people were in line right before that device went on sale, though the freezing cold may have been a factor.
One of the first buyers on Thursday waited in both lines.
"I had the Verizon 16 GB black iPhone 4, but I came back to go white," said Brandon Nuccio, a New York resident. "I don't technically need it. It's more of an aesthetic thing for me."
Nuccio said he paid the full $599 list price for the phone, since it was too late to return and exchange his previous iPhone 4. He is trying to sell his black iPhone to make up for some of the cost.
Alan Diaz was a little luckier.
"I got a black iPhone 4 a couple days ago, but I wanted to see the white one, so I traded the black one in," said Diaz, who had been waiting in line since 4 a.m. "I wanted to be unique."
Several other white iPhone customers also already had the black iPhone 4, including John Dwyer. Dwyer said he was surprised that the white iPhone finally came out, so he got in line at 6:30 a.m. to fetch one.
But why didn't he wait for the iPhone 5, which is rumored to be coming out in the late summer or early fall?
"Wait, what do you know that I don't?" Dwyer responded. "The iPhone 5 is coming soon? They got me then, because I'll have to get that too."
Elizabeth Wolf, who "woke up like a little kid on Christmas" Thursday morning, said she considered waiting for the iPhone 5, but decided to go with the iPhone 4 instead to replace her aging iPhone 3GS.
"I wasn't sure if the new one would be coming in white," Wolf said.
Though most buyers were eager to try out their new toys, unboxing them before they stepped out onto the sidewalk, a few kept the white iPhones secure in their packaging.
"It's actually for my mom," said shopper Ian Irlanda.