Gold at record highs! Dollar at 3-year lows! Don't panic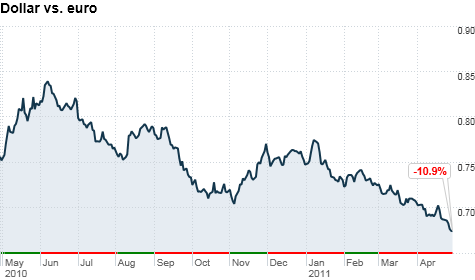 NEW YORK (CNNMoney) -- Gold and silver prices are surging and the U.S. dollar is slumping. While that's not great for consumers, investors are loving the dynamic.
"The Fed has made it crystal clear that it is not going to do anything to stop the dollar from falling," said Kathy Lien, director of currency research at Global Forex Trading, adding that central bank's unwavering message gives investors the green light to keep adding high-yielding assets to their portfolio.
By borrowing and then selling the greenback, investors are able to take advantage of the cheap currency by using the proceeds to buy up higher yielding assets, such as the euro, gold, silver and even oil.
The so-called carry trade has pushed the dollar index, which measures the value of the buck against a basket of currencies including the euro, pound and yen, to three-year lows.
On the flip side, gold prices, which have climbed for seven consecutive weeks, rose to a record high of $1,548 an ounce on Friday, and silver prices jumped as high as $49.21 an ounce. Oil prices also gained about 1% to just under $114 a barrel.
So what's going on? It's all about interest rates and inflation.
Earlier this month, the European Central Bank raised its benchmark interest rate. And China's central bank has already hiked rates four times since the end of the financial crisis to combat inflation and prevent asset bubbles
But the Fed isn't pulling the plug yet. On Wednesday, the central bank reiterated plans to keep interest rates low, invest the interest earned on its current asset holdings and complete its $600 billion bond buying program in June, as expected.
All of that, of course, deteriorates the value of the dollar.
"As long as that's the case, investors will keep paying a small interest rate to borrow dollars and use the funds to purchase currencies that are appreciating and earning higher interest rates like the euro, and commodities that are earning higher returns," Lien said.
The only event that could relieve some of the strain on the dollar would be a worsening sovereign debt picture in Europe, but that would only be a temporary salve.
"It wouldn't last long because the Fed's rhetoric limits any demand for the dollar," said Dean Popplewell, chief currency strategist at Oanda Corp.