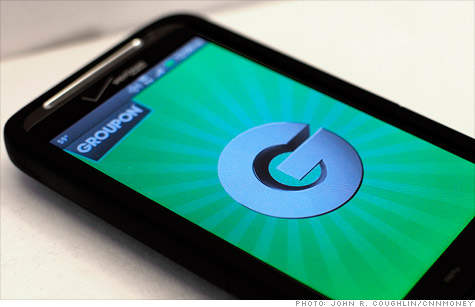 Groupon's forthcoming Groupon Now aims to target offers to you anywhere you go.
NEW YORK (CNNMoney) -- Groupon is believed to be the fastest growing startup in history, zooming in less than three years from nothing to a staff of 6,000 and annual sales that will reportedly top $3 billion this year.
Now comes phase two: Completely changing its business model.
Groupon is preparing to launch Groupon Now, a mobile app that will connect customers with real-time coupons for retailers in their vicinity. Tap the app's "I'm hungry" button, and you might be offered a discount on a slice at a pizza parlor a few blocks away. But you'll have to move fast: The deals will be time-sensitive and good for just a few hours.
It's a sharp shift for a company that built a massive customer base around its group buying deals, sold through playful and carefully crafted daily e-mails. Over the past year, 23 million Americans -- that's 10% of the adult population -- have purchased a coupon from daily deal sites like Groupon or its army of clones, according to a recent survey by Harris Interactive.
But that business model, dazzling as it's been, has a short shelf life. History is littered with the corpses of ventures that raced out to a early lead and then didn't innovate fast enough to sustain it. Ask Blockbuster. Or Friendster.
"They have grown much faster than the majority companies in the first two years of operations in Internet history," Caris & Co. analyst Sandeep Aggarwal says of Groupon. "The challenges will be managing the growth and making sure the Groupon experience isn't outdated."
Snapping up talent
Like many companies with sudden growth spurts, Groupon has an organizational back-end that hasn't kept up. Merchants say Groupon's tracking systems and customer service need improvement -- a criticism the company acknowledges and says it's working on. Managing a rapidly expanding, globally scattered staff is another big challenge.
To solve those problems, Groupon hired a new No. 2 last month: Margo Georgiadis, formerly Google's vice president of global sales operations. As Groupon's chief operating officer, she'll be in charge of helping the often irreverent company -- and its 30-year-old founder and CEO, Andrew Mason -- sustain its growth while preparing for a hotly anticipated IPO that analysts expect to happen this year or next.
Groupon is also loading up on new hires for Groupon Now. Last month the company acquired Whrrl, a location-based recommendations app, to get access to the startup's technology and its founder, Jeff Holden, a skilled developer who worked on personalization and product-discovery technology at Amazon (AMZN, Fortune 500) before departing to launch his own venture.
Holden is now Groupon's senior vice president of product development -- and his top priority is Groupon Now.
"People's attention cycles are going over to mobile," Holden says.
Groupon's daily-deals e-mail business isn't going away, but the company's focus is clearly on nailing its mobile strategy. Groupon originally planned to launch Groupon Now in early April, but pushed the date back to work out some kinks. Now company officials say the app will launch in its first city -- Chicago, Groupon's hometown -- later this month.
"It will feel very different," Holden says of how Groupon will evolve in the future. He predicts users will think: "I can't believe this is still Groupon."
It's a big adjustment for merchants as well. One of Groupon Now's pilot-test participants, Spot Cafe, doesn't plan to sign up right away.
A coffee shop in Chicago's River North neighborhood, Spot Cafe tested out Groupon Now by offering a $10 voucher for $6 during select hours. But manager Andrea Miller is concerned that such promotions will mostly draw in customers who are already regulars.
"We don't do a lot of foot traffic," she says. Without attracting new customers,"[you're] giving away something for nothing."
Groupon says it's fine-tuning its model to deal with that issue. Greg Rudin, the company's senior vice president of special operations, is heading Groupon Now's launch.
"The mix to the consumers is going to be heavily weighted towards presenting new businesses that they haven't seen and they haven't bought from," Rudin says.
If shoppers do purchase a deal, it will be a while before they're presented with another discount offer from the same merchant -- at least a month, he suggests: "That really resonated with business we're selling to."
Partners or rivals?
Groupon's unprecedented success launched hundreds of imitators. In the mobile field, it's got a different problem: The dozens of other companies that got there first.
Reviews site Yelp and check-in social networking apps like Foursquare, Gowalla and Loopt are all experimenting with local-merchant deal offers. San Francisco-based Placecast has been working for several years on location-based marketing and couponing; AT&T (T, Fortune 500) recently partnered with it to broadcast offers to AT&T's mobile phone customers. And, of course, Facebook looms on every horizon. Its own Groupon knockoff launched last month.
So could Groupon hook up with Foursquare?
"We're always in talks with all those guys," Rudin says. "A lot of the amazing technologies and business that have strong consumer value proposition and are in search of a business model will probably work with us."
But first, Groupon has to prove it can make Groupon Now work. Real-time, location-based discounting is a simple idea that's fiendishly complex to pull off. On top of building a technical infrastructure that can handle all the variables -- "you're talking about multiple deals that are in walking distance during certain times that only last for an hour or two," Rudin notes -- you need a constantly updated supply of merchants willing to offer deals.
Groupon is very, very good at selling its vision. The company has sold 60 million Groupons since its launch and raised, like, a billion dollars from investors frantic to grab a piece of the action. With Groupon Now, it's making its boldest move yet toward revamping the retail landscape.