My terrible Groupon experience (and great LivingSocial deal)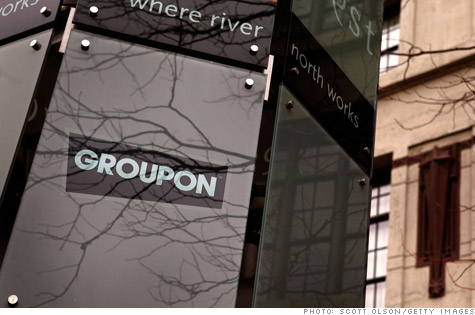 Romil Patel is a Chicago-based entrepreneur and investor who writes about the tech industry on his blog, Venture Level.
I own several fast-food outlets, and I'm also an investor in Internet companies. Put one and one together, and you get curious. Since I'm in both spaces, I wanted to dig into the whole group buying daily-deal craze and see if it's as much of a win for merchants as it is for consumers.
To test this out, I took one of my outlets and did a Groupon for it, and then did a deal through rival site LivingSocial. Let me tell you right now: It was night and day. Working with one company was a great experience. With the other, it was a mess.
My experiment started when a Groupon sales representative reached out to me about doing a deal for my restaurant. I was intrigued, and we went back and forth on the details -- and by "back and forth," I mean the Groupon account rep just telling me what would "work" and what wouldn't be accepted by their marketing department.
After a few days, we decided that $5 for $10 worth of product was going to be the deal. This was not what I had in mind, but I went with it. Groupon's "regular" deal split is 50/50 with merchants, so in this case they would take half of $5. They also charge merchants an additional 2.5% fee if people use their credit cards to buy Groupons.
I'm a hard negotiator. I didn't accept those terms, and never would. I mentioned that I was pondering doing a LivingSocial deal at the time. My account rep said something like "we really want to work with you and hope you don't do one with them because they are copycats." So Groupon came around on my terms for revenue split and credit card fees.
Several months later, my feature date came, and Groupons were sold. Once people started redeeming their vouchers, things got complicated.
There are customers who are awesome: They redeem their voucher and spend a little extra beyond it. There are customers who spend just the amount of the voucher or a few cents over. Then there are those who say: "I'd like this, but I'm not at $10 so can you pay me back the difference?"
I'd say less than 5% of customers fit the first criteria, 93% of customers fit the second, and the remaining fit the "problematic" type. Overall, this leaves a sour taste in the merchant's mouth.
But that's not why I was cranky. Groupon has little control over its subscribers' personalities. My gripe is about how Groupon handles its customer service for merchants.
We had several customers who ordered something, then "changed their mind" after their items were ready and demanded that something new be made. That waste costs my store money.
Each merchant gets an account dashboard, which gives them a name and voucher number for every Groupon buyer. Groupon lets you "flag" bad customers in that dashboard. I contacted my account rep and explained the situation. I wanted to know if Groupon would reimburse me for my product loss. I told the rep I'd flagged the problematic transactions in my account dashboard.
The rep replied: "We should be good then -- I will keep you posted!"
Exactly 10 days went on, and I heard nothing. Then I had two more problem deals pop up: fraudulent redemptions. I e-mail my rep again and said I had more deals flagged. The rep sent back: "Romil, I will check in on this issue and get back to you shortly."
I heard nothing for days -- 28 of them, to be precise. I'm the kind of person that gives people more than ample time to get work done, but in my opinion, if 28 days isn't enough ... I decided to contact the rep yet again.
I said something along the lines of: "I haven't heard back from you on the reimbursement of the two extra Groupons I have."
The rep responded: "When you flagged it online did it not work? If not, please send me the voucher #'s and the two customers' name where this happened. Thank you!"
At this point I'm a little bugged. Why was I being asked if the online flagging didn't work? I thought the rep was going to get back to me "shortly."
Merchants don't have the time and shouldn't need to deal with minor issues like these. Groupon reps should get things done -- faster!
There were other irritations. For example, I asked Groupon for an alphabetical list of customers who bought Groupons for my store. The rep replied that they were "unable to download the list." Someone pinch me please. If Groupon doesn't have access to a list of people who bought a certain deal, then how do things work at Groupon?
Groupon's success has launched hundreds of clones. Among the biggest is LivingSocial, and one of their reps also reached out to me -- in person. That rep dropped into the same location that the Groupon ran for, and asked to speak to the owner.
I wasn't in the store -- I'm usually not -- but the manager took the rep's business card and passed the information on to me. I reached out, and we arranged to meet and discuss options.
This was a major step up. When merchants deal with Groupon, the reps never actually come talk to you in person; everything is done over the phone.
So we decided to run a deal that I wanted to run, not something that would "be approved by some marketing department." LivingSocial's rep submitted the deal for approval. It got turned down, because the marketing department thought it wasn't the right "season" for the deal to sell its best. So my rep told me they would contact me again in the Spring.
I was kind of confused. If they weren't going to do the deal, why waste my time by having a meeting in November? However, the rep came around in Spring, and we did the deal.
LivingSocial was more proactive from the start. On deal day, they tell you when your promotion will start and how long it will run. When it's over, they e-mail you a recap with details on what you need to do next and when the funds will be mailed to you.
Communication is key. And LivingSocial does it really well.
The buyer list that LivingSocial provides is automatically in alphabetical order, so there's no going back and forth trying to get it done. In addition, LivingSocial gives a 60/40 split right off the bat for merchants, and charges no credit card transaction fees.
The customers LivingSocial brought in were a more positive bunch. No one changed their order midway through or asked for cash back on their voucher. To be fair, neither LivingSocial or Groupon has the ability to control what people will try to pull when redeeming their vouchers. But I tell it like it is.
Both deals are still being redeemed, so I may still hit more snags. If I do, I suspect that LivingSocial will be better at handling them than Groupon.
It's possible I just had a bad Groupon account rep, and got lucky with LivingSocial. But there's another possibility: That Groupon grew too big, too fast, and lost sight of the value of its communications with merchants. LivingSocial -- nipping away at Groupon's heels -- has to make that a major consideration if its wants to be bigger and better.
I think that LivingSocial is trying to take a Zappos approach, making "good customer service" the core product it sells. There's even a common link: Amazon (AMZN, Fortune 500), which bought Zappos, is a major stakeholder in LivingSocial.
I wrote up my Groupon-vs-LivingSocial tale on my blog -- and suddenly, that missing communication kicked in. Groupon CEO Andrew Mason and many others at the company, including my account rep, reached out to me directly to apologize. Andrew mentioned that they've recently created a merchant services group within Groupon, which will strive to take care of all merchant problems quickly.
That's a promising sign. It sounds like Groupon has taken my experience as a learning lesson -- and a very serious one.