Coupons that stalk you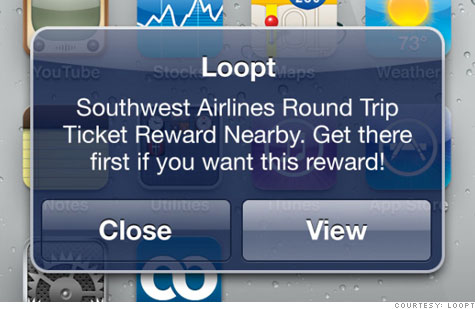 NEW YORK (CNNMoney) -- Addicted to discounts? They're about to leap out of your e-mail and onto your mobile phone -- right as you're walking past the shop that wants to lure you in with a deal.
AT&T (T, Fortune 500) and location-based app Loopt both unveiled similar, rival technologies this week that will allow businesses to send location-specific offers directly to consumers' phones.
It's an idea that has long been discussed, but, until now, hasn't gotten much traction. Location-targeted ads could be a goldmine for businesses -- and a hit with consumers who don't want to deal with expiration dates or planning their coupon strategy in advance.
"Context is everything in mobile advertising, and getting the right offer at the right time and place increases consumers' likelihood of taking action," says eMarketer principal analyst Noah Elkin.
Here's how it works: Loopt's Reward Alerts application will send participating Android and iPhone users notifications that a deal is immediately available in their area. Loopt customers would then need to present their phone message to a retailer to redeem the offer.
The service will launch at next month's South By Southwest (SXSW) gathering in Austin, where Loopt is beginning with a dozen partners, including Microsoft (MSFT, Fortune 500), Southwest Airlines (LUV, Fortune 500), Fox, Tivo (TIVO), Gilt City, and OkCupid.
AT&T's ShopAlerts system will work slightly differently. The network's customers will be able to opt in to receiving location-based deals by text message -- which means the service won't be limited to smartphone customers. Users will either be directed to a mobile website where they can redeem the deal or, like Loopt, they will be told to redeem it at a local establishment.
The carrier's launch partners include Hewlett-Packard (HPQ, Fortune 500), Kmart, JetBlue (JBLU), SC Johnson, Kibbles 'n Bits, Nature's Recipe and the National Milk Mustache's "Got Milk?" campaign.
What it means: With only a handful of businesses participating at launch, neither AT&T's service nor Loopt's app are going to instantly change the way businesses advertise or consumers make their shopping decisions.
But if the services grow, that kind of big change is possible.
For local businesses, location-based ads could help fill an immediate need. A restaurant has empty tables? It could send out a location-based alert with a 10% off coupon for that evening. A pet store has on oversupply of dog food? It could let people in the area know that Puppy Chow is half-off.
For national brands, the alerts could add enough convenience to get customers to make impulse purchases. Unlike coupons, which rely on consumers going through many steps -- finding the coupon, clipping it and remembering to take it to the store before it expires -- a deal for a particular nearby product could motivate shoppers to buy it immediately.
AT&T could be the catalyst: Location-based targeted ads haven't gotten off the ground because most services like Foursquare or Gowalla make their users actively check into a location to get a deal, if one is available. Users have to download the app, know that a bargain is being offered, go to the location and check in.
The other problem is that location-based services aren't well known the general public. Foursquare is by far the largest of the bunch with 6 million users, and Loopt is the third runner-up. A recent Pew Research Center study found that just 4% of online adults use these "geosocial" sites.
Industry players say that AT&T's move could give this kind of service the backing that it needs to get off the ground.
"Having a major carrier on board for a geo-targeted program will give cautious marketers more confidence about moving ad dollars to mobile channels," Elkin said.
Danielle Lee, vice president of ad product innovation for AT&T, said her company isn't trying to compete with Loopt or other location-based services -- but it isn't looking to partner with them either.
Loopt's leaders say they're confident they can outmaneuver the giants coveting their turf.
"Traditionally, if you had to bet on an upstart or a carrier, you bet on an upstart," said Sam Altman, Loopt's CEO. "Tech companies tend to do tech best."