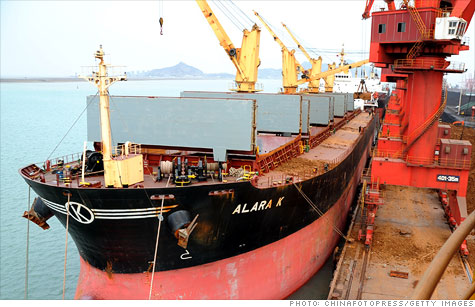 A freighter docks at Lianyungang Port in China.
NEW YORK (CNNMoney) -- China's monthly trade surplus grew for the second month in a row, in April.
The world's second largest economy reported a whopping $11.43 billion surplus in April, up from its $1.68 billion surplus recorded in the same month last year, China's General Administration of Customs said Tuesday.
Exports rose 29.9% year-over-year to $155.69 billion in April, trouncing the December record, and imports rose at a 21.8% rate, to $144.26 billion.
"After a first-quarter anomaly, China's trade data appear to have reverted to trend with a large surplus in April, dampening expectations for a quick rebalancing of the Chinese economy," said analysts at IHS Global. "The quick rebound to surplus is driven more by the deceleration of the Chinese economy than the robustness of global demand."
China is the world's second largest economy after the United States, and has has long depended on its status as an export powerhouse to fuel its growth.
But since the Great Recession slowed foreign demand for Chinese goods, China's government has taken steps to shift some of its dependence on exports to its own domestic consumption.
"China realized Europe is in trouble and the U.S. recovery is tepid -- so that makes them nervous and they need to rely on their own domestic market," said Damien Ma, Asia analyst for the Eurasia Group.
In a five-year plan announced earlier this year, Premier Wen Jiabao highlighted the need for domestic demand -- not exports -- to eventually become the key driver of China's growth.
Heading toward a yearly surplus
Analysts expect China to have a surplus for the year overall, due to China's recent efforts to tighten monetary policy.
Those efforts are meant primarily to curb rapid inflation, but in addition, are likely to slow China's booming construction sector, Ma said. That would, in turn, reduce China's demand for raw material imports later this year.
"There are many things happening in the next few months that could make for a swing back to surplus," he said.
Even China's officials have admitted they expect to end the year in the black.
"We believe Chinese trade will be a balanced one with a modest surplus this year," Guangyao told reporters last week.
From January to April, total export volume reached $1,100.32 billion, 28.5% higher than same time last year. The accumulated trade surplus totaled $10.28 billion during that same time period. That's 32.8% lower than same time last year.
Bilateral talks in D.C.
Top officials from the United States and China are currently meeting in Washington D.C., with hopes of reducing tensions on trade, among other issues.
"This unexpectedly-large trade surplus has come at a rather unwelcome moment, with Tim Geithner and Wang Qishan sitting down for a tête-à-tête in DC," said the IHS analysts. "This will likely provide a touch more ammunition for the U.S. in the talks, as Geithner argues that more needs to be done with the currency and interest rates."
U.S. government officials have recently criticized China for keeping its currency, the yuan, artificially low. President Obama is trying to increase U.S. exports rapidly as a way to spur economic growth -- but a weaker yuan could give China an unfair advantage in the global marketplace, by making their exports cheaper.
The United States is also likely to face some criticism on its own policies. Because China is the largest creditor to the U.S., it may want reassurance that Congress will do what it must to reduce the massive deficit, and avoid reaching the fast approaching debt ceiling.
--CNN's Helena Hong and Jo Ling Kent in Beijing contributed to this report.