GM unveils first car for new China-only brand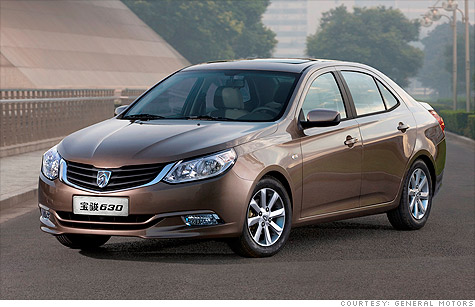 NEW YORK (CNNMoney) -- General Motors has unveiled the first car for its China-only Baojun car brand at the Shanghai Auto Show.
Baojun, which means "treasured horse," is GM (GM)'s first car brand specifically for China, which has become the automaker's largest car market. GM announced the creation of the brand, aimed at entry-level car buyers, last summer.
The Baojun 630, a mid-sized sedan, was developed in China by GM's Chinese partnership, SAIC-GM-Wuling. All international automakers operating in China are required to work in partnership with Chinese automakers.
GM boasts of the car's sporty presence, 22 individual storage spaces, and safety features including anti-lock brakes, three-point seatbelts and child safety seat fasteners. The car also makes extensive use of high-strength steel, GM said in its statement.
The car is powered by a 1.5-liter, 108-horsepower engine and gets about 34 miles per gallon, GM said Monday.
The car will go on sale in China "shortly after the show concludes," GM said. To market the car, SAIC-GM-Wuling has launched a nationwide "Happiness Campaign," encouraging people to submit stories telling how they have pursued happiness in their lives.

"The results will be announced during the official launch ceremony for the Baojun 630," the automaker said in its statement.
GM also unveiled the 2013 Chevrolet Malibu at the Shanghai show. That car, a redesigned version of GM's popular mid-sized sedan, will be sold in the U.S. as well as in China. The new, wider Malibu has a more aggressive design and new 2.5-liter, four-cylinder engine.