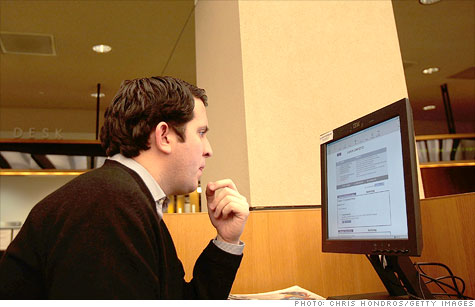 NEW YORK (CNNMoney) -- Good news: The job market is improving and employers are starting to hire again. But the rules of landing a job have changed.
There's still a lot of competition out there. If you want to get a foot in the door, you'll need to use every tool available to you.
If there's one thing that's different in the post-recession job market it's this: "Submitting your résumé and cover letter is not going to get you a job."
That's according to Jennifer Becker, managing director of Ajilon Professional Staffing, a division of Adecco Group, the world's largest staffing firm.
So what works? Experts say making connections, adapting to each potential employer and promising results are the only ways to get hired.
Making connections: "Networking is the only game in town right now," said Ford Myers, executive career coach and author of the book, Get the Job You Want, Even When No One's Hiring. "Everything is built on personal connections, nothing else works."
With nearly 14 million people currently looking for work and job openings still relatively scarce, Gerry Crispin, co-owner of Careerxroads, a New Jersey-based consulting firm, says an employee referral is the best way to increase your chances of getting a job.
Crispin advises job seekers to connect with people within a company and ask them for a referral. "It may be as much as 10 times more effective" than simply applying, he said.
To that end, social networking has carved out a crucial spot in today's job market. Seekers must be on board with LinkedIn, Facebook and Twitter as well as smaller industry-specific sites in order to connect with more people, and employers, in their industry.
"There's no way you can be effective in your job search without embracing social media," Becker says.
Still, most career counselors, coaches and recruiters say it's the face-to-face connections that really boost a job seeker's chance of getting hired.
"There's still no replacement for getting out in your community and shaking hands," noted Becker.
Social media tools should be used to make real connections, Myers cautions, not just virtual ones.

"Tons of people use social media all day long and they are communicating with tons of people but they're not connecting with anybody. Build the relationship from there so it becomes a real world relationship."
Stretch to fit: Once job seekers connect with a company, then the real work of getting hired begins. Gone are the days of impressing a hiring manager with experience and education. These days it's identifying what results you can deliver that will ultimately get you an offer.
"In the current world, the employer cares about one thing: 'what can you do for me today, how are you going to solve my most pressing problems, how are you going to take away my pain?'" Myers said.
Crispin recommends using the tools that are available to find out more about the company and what the company's needs are.
"Read blogs by recruiters explaining how you can compete, download a job description and watch videos on YouTube of employees in the company," he suggested.
Promise results: Once you are well versed in the company's particular constraints within the current economic climate, identify what you can bring to the table.
To do that, Myers urges job seeks to provide measurable results. Focus on the results you produced in your career so far: "here's how, here's when, here are the percentages," Myers said.
"If you can't add value, they're not going to hire you," he added.
The experts also recommend being open to the pay, position, location and schedule of any position that is offered. Consulting, or even volunteering for an organization, although it may be several steps below a job seeker's previous position, is a great way to ultimately get hired. (See also:Consultant to company co-owner)
"Think more broadly, look at all the possibilities," Myers said, "otherwise you'll be looking for a long, long time."