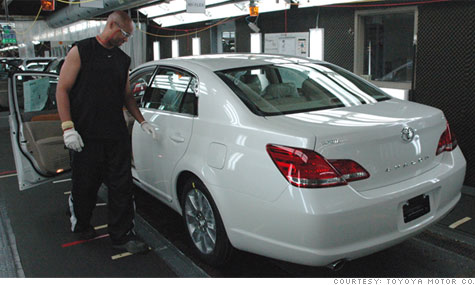 Toyota Motor Co. needs to do a better job of reacting to crises and listening to outside critics, a Toyota-appointed panel said.
NEW YORK (CNNMoney) -- A panel of safety experts convened by Toyota Motor Co. advised the automaker to loosen its centrally controlled corporate culture and to listen more to outside critics.
"Toyota was out of balance," the Toyota (TM) North American Quality Advisory Panel said in an announcement. "It centered too much control in Japan and gave its North American operations inadequate decision-making authority to handle quality and safety problems affecting vehicles in North America."
Toyota organized the panel in April 2010 in the midst of the automaker's recent rash of recalls and harsh publicity in the wake of allegations of unintended acceleration.
Japan-based Toyota has already addressed some of the safety panel's concerns.
Make sure there's someone in charge: Toyota recently named a Chief Safety Technology Officer for the entire company.
The automaker did not have a point person responsible for safety issues, as some other automakers do when the unintended acceleration problems began to surface. Within Toyota, it was felt that safety was everyone's responsibility, the panel said.
"However, we fear that this philosophy might suffer from the old adage 'when everyone is responsible, nobody is accountable," the Panel said in its announcement.
Less Japan-centered leadership: Toyota could go farther still, panel chairman Rodney Slater said in an interview. There should be key executives in various parts of the globe, he said, enabled to act quickly and independently when problems arise.
"You need a go-to person or position with authority to make decisions, especially in times of emergency," he said.
For instance, the automaker recently announced a restructuring to give more power to company officials in various global regions, not just Japan.
Toyota should also have non-Japanese members on its board of directors, Slater said.
Be a better listener: The Panel also criticized Toyota for failing to take appropriate action in response to reports of quality and safety problems coming from outside the company.
"Toyota seems to be eager to hear and take action on negative feedback generated from inside sources," the Pane said in its announcement. "However, Toyota sometimes responds less constructively, often with defensiveness, to criticism from outside sources.
The panel is led by Rodney Slater, a former U.S. Secretary of Transportation. Other members of the panel include former Lockheed Martin CEO Norman Augustine and Brian O'Neill, former president of the Insurance Institute of Highway Safety.
"While I am glad they've recognized the positive changes we've already made, I also appreciate how they want us to keep at it," Toyota's North American Chief Quality Officer Steve St. Angelo said in a statement. "I've told them we intend to do just that."
At the same time, auto safety critic Sean Kane of the consulting form Safety Research and Strategies, released a report calling into question a February report by the National Highway Traffic Safety Administration that cleared Toyota's electronic throttle system of any blame for complaints of unintended acceleration.
Looking at the data used by NHTSA and NASA, the space agency NHTSA relied upon to do much of the technical analysis, Kane said his research indicated the agencies had unduly discounted evidence possible electronic causes of unwanted acceleration.
Also, Kane said, too much information was removed from the reports, supposedly to protect critical business information, to fully assess the report.
NHTSA should create regulations covering how automakers use electronic controls for safety-critical systems like the acceleration, brakes and steering, Kane said in an interview.
Kane and his company act as consultants for personal injury attorneys and others. Officials at the Department of Transportation, which oversees NHTSA, were not immediately able to response to a request for comment on Kane's allegations.