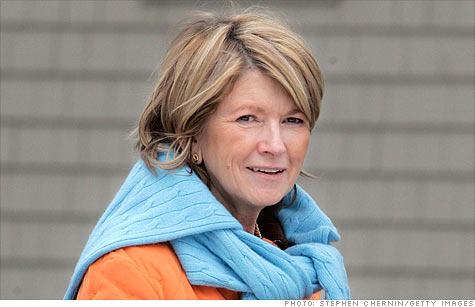 Martha Stewart is rejoining the board of the company that bears her name. For more on Martha Stewart Living Omnimedia, click photo.
NEW YORK (CNNMoney) -- Domestic diva Martha Stewart is getting back on the board of directors of the company that shares her name, despite a criminal past that forced her off the New York Stock Exchange's board.
Stewart will rejoin the board of Martha Stewart Living Omnimedia (MSO) in the third quarter, the company announced Wednesday.
The company also hired private equity firm Blackstone Group (BX) to "review and respond" to investors who have expressed an interest in partnering or investing in Martha Stewart Living Omnimedia, as well as to review other opportunities.
Shares of Martha Stewart Living Omnimedia shot up 32% following the news.
"I'm very excited by the prospect of rejoining the board and I look forward to working with Lisa as well as the entire board on all the compelling business of [Martha Stewart Living Omnimedia]," said Stewart in a press release, referring to Lisa Gersh, who will join the company as president and chief operating officer on June 6.
A company spokeswoman was not immediately available to explain how Stewart was able to accept an executive position in light of her past conviction.
Stewart was convicted on March 10, 2004, on all four counts of obstructing justice and lying to investigators about her sale of ImClone stock in December 2001.
The sale was based on insider information from her ex-broker, Peter Bacanovic, who was convicted on four out of five counts for making false statements and obstructing justice.
Stewart avoided losing about $51,000 by selling nearly 4,000 shares of ImClone the day before an impending cancer drug rejection by the Food and Drug Administration became public, causing the stock to plummet.
As a result, Stewart had to resign from her seat on the board of directors of the NYSE (NYX, Fortune 500).
She was sentenced to serve five months at a minimum-security prison in West Virginia nicknamed "Camp Cupcake."