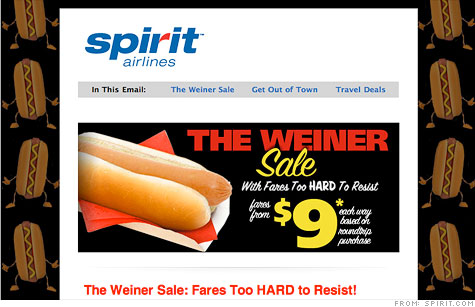 Spirit Air is out in front if what will surely be a marketing bonanza.
NEW YORK (CNNMoney) -- Low-cost carrier Spirit Airlines is jumping on the sex scandal exploitation bandwagon with its latest promotion -- the Big Weiner Sale.
"Check out our BIG Weiner Sale boasting fares just too hard to resist," the airline wrote in an ad sent via email Tuesday. "Hurry to book now before this sale gets hacked!"
The marketing campaign is a clear reference to U.S. Rep. Anthony Weiner, who admitted to sending explicit photos of himself and carrying on inappropriate relationships online. (See CNN's coverage of the political fallout.)
Spirit Airlines (SAVE) is using the scandal surrounding the Congressman's transgressions to garner attention for a summer airfare sale, with fares starting at just $9 each way. (The reduced fares are only available to members of the Spirit Airlines Fare Club on select travel dates - and tickets must be booked by Wednesday.)
The gimmick is likely just the start of an Anthony Weiner marketing bonanza, as plenty more businesses try to make a buck on the latest buzz.
The online marketplace Café Press has seen a big influx of scandal-related tchotchkes, from $25 T-shirts that say "don't tweet your meat," to "Weinergate" bumper stickers.
"It generally takes less than an hour for people to jump on the trend," said Marc Cowlin, a spokesman for the shopping site."This was the case with Anthony Weiner's announcement yesterday and now there are more than 2,500 products relating to 'Weinergate' available."