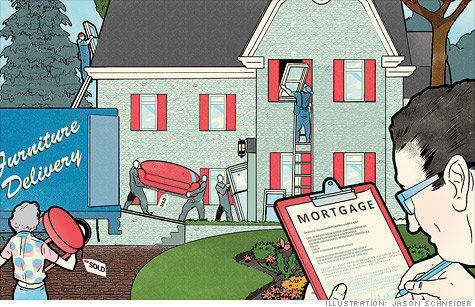 (Money Magazine) -- 1. Negotiate on repairs and upkeep
Price trend: Contractors, still facing a slumping real estate market, will strike a deal to get your business. In a May survey by consumer review website Angie's List, 81% of contractors say they'd negotiate labor costs; more than a quarter say they'd drop prices by more than 10%. Service providers like house cleaners and landscapers are cutting rates, too.
How to save: Get multiple price quotes. You'll have the most bargaining power if you can be flexible about the timing of your project. If a builder won't drop his price, see whether he'll upgrade you to higher-end fixtures, says Steve Gonzalez, author of "Before You Hire a Contractor: A Construction Guidebook for Consumers."
2. Trim the cost of borrowing
Price trend:: The average rate on a 30-year mortgage was 4.7% in May, down from 5.1% in February; it's expected to hit 5.8% next year, says the Mortgage Bankers Association. Some borrowers will pay more even sooner when jumbo loan limits expire this fall.
How to save: The recent rate dip has opened up another refinancing window. To save on closing costs, request a good-faith estimate before you apply. You can negotiate any fees the lender charges. You'll have the most wiggle room on adjustable-rate and jumbo mortgages.
3. Get a deal on furniture
Price trend: Higher shipping and materials costs are pushing furniture prices up, says Kimberly Causey, author of "The Furniture Factory Outlet Guide."
How to save: When sales slow in the summer, many mom-and-pop shops will make deals to move inventory, says Causey. Ask for 20% off, and don't settle for less than 10%. Gently used floor models can go for 25% off. Sign up for e-mails from furniture shopping sites like Decorati.com and OneKingsLane.com, where a $2,970 Noir brand sofa recently sold for $1,499.