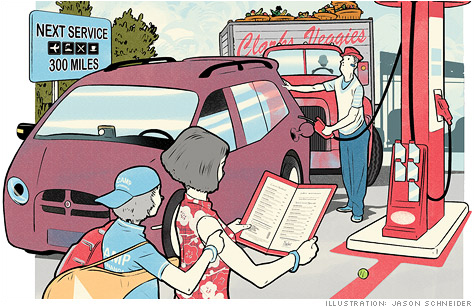 (Money Magazine) -- 1. Lower your travel bills
The problem: This summer, gas is expected to peak at more than $4 a gallon, and domestic airfares will be up 13% from a year ago.
Blame soaring oil prices and increased demand, says Rick Seaney, CEO of FareCompare.com.
What to do: Boost your gas mileage by as much as 33% on the highway (about 5% around town) by sticking to the speed limit and not accelerating or braking suddenly.
Download the free app from aaa.com/mobile to find the lowest pump prices in your area.
Have a question about your budget? Have it answered by The Help Desk.
2. Eat out on the cheap
The problem: Food prices rose more than double the rate of inflation in the last year, and restaurants are passing the expense on to diners.
What to do: Use coupons. To lure customers, eateries -- even high-end ones -- are stepping up promotions, says Jeanette Pavini of Coupons.com.
For example, Café La Ruche, a French bistro in Washington, D.C., recently offered $100 worth of food for $45 on Restaurant.com.
Also sign up for daily deals at Groupon.com; in April you could have gotten $35 off a $75 bill at Spring, an award-winning Chicago restaurant.
3. Save on camp fees
The problem: You want your kids to have fun (and not wreck the house) this summer, but day camps can run up to $650 a week.
What to do: Send them in August; many camps lower fees for that less popular month.
You can also claim a tax credit of up to $1,200 for the cost of day camps and summer programs like a tennis clinic for two or more kids under 13.
Come fall, sign up for your flexible spending account at work, which will let you pay up to $5,000 of next year's camp bill with pretax bucks.