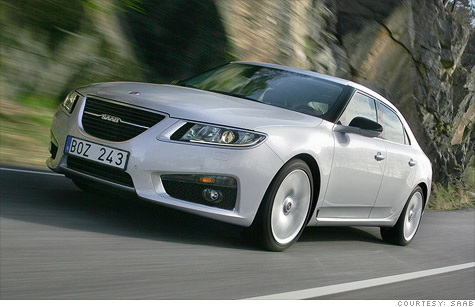 Saab doesn't have the money to pay its workers.
NEW YORK (CNNMoney) -- Swedish automaker Saab said on Thursday that it doesn't have the money to pay its hourly factory workers.
Swedish Automobile N.V., the parent company, said the automaker "will be unable to pay the wages to employees as it has not yet obtained the necessary short-term funding."
The company said it is "in discussions with various parties" to get short-term funding.
The discussions are ongoing, it said, but there is "no assurance that these discussions will be successful or that the necessary funding will be obtained."
The announcement comes just days after Saab Automobile, on June 9, said it was suspending production at its factory in Trollhattan "pending more stable inflow" of auto parts.
On June 13, Saab announced tentative deals with two Chinese companies, distributor Pang Da Automobile Trade Co., Ltd. and auto manufacturer Zhejiang Youngman Lotus Automobile Co., Ltd., that could provide longer-term financing for Saab.
Those arrangements still must be approved by the Chinese government and they would not help with Saab's immediate cash problems, a Saab spokeswoman said.
Saab Automobile employs about 3,700 workers in Sweden.
The auto industry has suffered in recent years, though U.S. automakers Ford Motor Co (F, Fortune 500)., General Motors Corp. (GM, Fortune 500) and Chrysler have showed improvement.
The Big Three U.S. auto companies reported profits for the first quarter for the first time since 2004. Ford reported its best quarterly profit since 1998.
-- CNNMoney senior writer Peter Valdes-Dapena contributed to this story