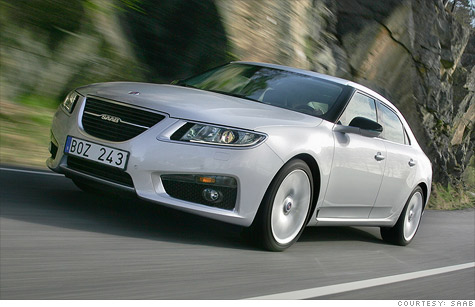 Saab had recently begun selling a new version of the 9-5 sedan developed while it was still part of General Motors.
NEW YORK (CNNMoney) -- Saab has secured a tentative short term financing deal that should allow the Swedish automaker to pay its factory workers. But they still won't be building any cars, at least not until other financing deals are reached.
Saab's parent company, Swedish Automobile N.V., announced last week that it had run out of money to pay hourly workers. Saab's Trollhattan production facilities were already halted because the company couldn't reliably get parts to build cars.
In a transaction valued at about 28 million Euros -- or about $40 million -- an investment consortium led by Hemfosa Fastigheter AB will buy a 50.1% stake in Saab Automobile Property AB.
Saab will then enter into a 15-year lease agreement for the production site.
The deal still requires the approval of the Swedish government, the Swedish National Debt Office and the European Investment Bank, all of which have been involved helping to finance Saab's operations since the Swedish automaker split from former parent company General Motors in early 2010.
On June 9, Saab announced it was suspending production at its factory in Trollhattan "pending more stable inflow" of auto parts. Saab is still working on arrangements to, once again, get parts coming into its factories.
On June 13, Saab announced tentative deals with two Chinese companies, distributor Pang Da Automobile Trade Co., Ltd. and auto manufacturer Zhejiang Youngman Lotus Automobile Co., Ltd., that could provide longer-term financing. Those arrangements still must be approved by the Chinese government and they would not help with Saab's immediate cash problems, a Saab spokeswoman said.
Saab Automobile employs about 3,700 workers in Sweden.