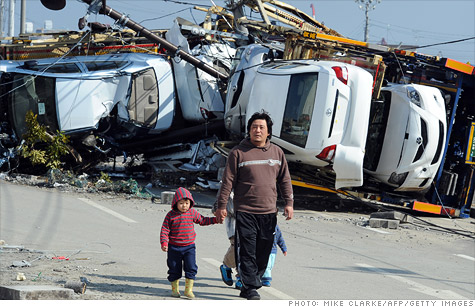 Toyota blames its slump in sales and production on the lingering effects of the deadly earthquake-tsunami that devastated parts of Japan in March.
NEW YORK (CNNMoney) -- Toyota Motor Co. on Tuesday blamed the continued fallout from this spring's earthquake for slumping sales and production in Japan, and the automaker was hit with a ratings downgrade.
Toyota (TM) reported a production decline of 46.5% in Japan in May, compared to the year before. Sales volume in Japan declined by 47.4% in May, while overseas production fell 43.3% and worldwide production fell 44.7%.
Sales and production have been down all year, hamstrung by the devastating earthquake and subsequent tsunami that struck the northeast part of Japan on March 11, culminating in a meltdown at a nuclear power plant.
For the first five months of 2011, Toyota production in Japan has fallen 40.1% compared to the same period last year. In that same period, sales in Japan fell 37.1% and exports fell 33.7%. Overseas production fell 12.1% while worldwide production plunged 25.5%.
But Toyota forecast brighter times ahead, as production eventually recovers from the quake.
Toyota acknowledged that the earthquake "had severely hampered productions," but expects its production "to return to near pre-earthquake" levels in July and "return to full production" by November or December.
The company also plans "to produce an additional 350,000 vehicles from October through March 2012 to make up for production lost to the disaster and its aftereffects."
But Moody's was unimpressed with the company forecast. It downgraded the debt of Toyota and its subsidiaries to Aa3 from Aa2.
"The downgrade reflects Moody's concern that it would take some time for Toyota to recover its previous strong profitability, and its competitive strength will remain under pressure for a prolonged period in view of challenging market conditions," said Moody's, in its ratings report.
In fact, the rating agency said it will keep a close eye on Toyota as a candidate for an additional downgrade, because of its reliance on Japan's shaky government and banking support.
Toyota's competitiveness has declined in the United States, where its rivals, Ford Motor Co (F, Fortune 500)., General Motor (GM, Fortune 500) and Chrysler, are battling for control.

In fact, GM is poised to reclaim its spot from Toyota as the world's No. 1 automaker.