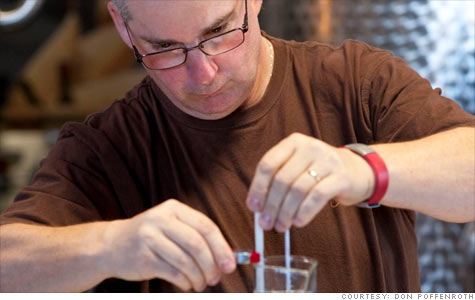 Don Poffenroth dumped his 401(k) into a new retirement investment: a vodka distillery. See more unusual alternative investments.
NEW YORK (CNNMoney) -- Don Poffenroth spent more than 20 years watching his 401(k) eke out returns of 3% to 5%. Until, in 2007, he decided to take a bold step: He emptied out his 401(k) into a self-directed IRA and funneled all of his savings -- $300,000 -- into a vodka distillery.
At the time, there were only a handful of players in the business and about 40 distilleries in the country. "There was all sorts of potential there," said Poffenroth.
Three years later, the vodka distillery, which is based in Spokane, Wash., is bringing in annual revenue of more than $1.5 million. And Poffenroth estimates that his 60% share of the company is worth about $1.2 million.
The money the distillery brings in goes directly into Poffenroth's self-directed IRA, where he says it will sit until he retires.
"It's significantly beyond what the market could have ever dreamed of giving up," said Poffenroth. "If you look at historical gains of 401(k)s, we're getting hundreds of times more than that."
Habanero peppers: A hotter alternative to 401(k)s?
As a result, a growing number of investors are losing faith, emptying some or all of their traditional retirement funds and reinvesting their money into so-called "alternative investments."
While many investors stick to less-sexy alternative assets, like precious metals or physical currency, some opt for some pretty unusual bets. Among some of the more exotic examples: a hair-styling university, chicken feces, dressage horses and a habanero pepper farm.
Investments in alternative assets are expected to increase from an average of 14% of investment portfolios in 2010 to 19% by 2012, according to Russell Investments' most recent survey.
Most alternative investors roll over their 401(k)s to self-directed IRAs, which have the same tax benefits as traditional IRAs but allow investors to put their money into a wide variety of assets. While these IRAs are overseen by advisers who facilitate account transactions and make sure the accounts meet IRS guidelines, it's usually up to the investor to pick the assets. Returns are realized when the asset is either sold (if it's sold for a profit) or when the asset creates a product that can be sold, such as habanero peppers.
Just like a conventional IRA, if the funds are tapped before the holder reaches retirement age, they must pay an additional 10% tax on early withdrawals. And the assets still have to qualify as acceptable under IRS rules. Otherwise, investors will face stiff penalties if they withdraw money from a 401(k) to invest in, say, collectibles, which aren't considered acceptable under IRS guidelines.
A 'cow Ponzi scheme'
In fact, a group of clients were taken for a quarter-million dollars after investing in several cows that were allegedly going to be used in a research experiment at Texas A&M University, said Hubert Bromma, CEO of IRA custodian Entrust.
The promises were just too good to be true, Bromma said. According to Entrust's records, the woman running the scheme claimed to be a graduate student from Texas A&M. She said she needed $60,000 in order to buy 100 cows that she would then donate to Texas A&M for research.
The cows would be bred during the experiment, she told the men. So not only would she be able to get the cows back from the university, but also the calves. She said she'd eventually be able to sell the whole lot for $95,000 to a buyer who had already been lined up -- giving the investors a more than 50% return.
At first, the woman doled out returns to attract more investors. But in the end, it turned out that the whole thing was a scam: the cows never existed, the woman wasn't a graduate student and the research program was completely made up.
The woman was caught stealing millions of dollars from investors in what Bromma calls a "cow Ponzi scheme." She was sentenced to about 11 years in prison in Texas after pleading guilty to the charges, according to federal court documents.
Know what you're getting yourself into
If you're not familiar with what you're investing in, then you're probably better off sticking to a 401(k), he said. And since there's often so much risk involved, these investments are often better for wealthier folks who are able to stomach more downside risk.
Many banks and big retirement firms like Fidelity don't even let clients put their funds in such specialized investments. "We don't offer pepper farms or anything as speculative," said Beth McHugh, vice president of market insights at Fidelity. "Even with something like gold [which Fidelity does offer] -- while not as unusual, it's one of the most volatile assets, and you really need to understand what you own and how much you're willing to lose."
Those who still venture into alternative investing should remember to keep their portfolio diversified.
"People need to understand that there's always an upside and downside to any investment, so you need to spread out the risk," said McHugh.
Do you have a job that people would be surprised to learn pays a salary of $100,000 or more? If so, email blake.ellis@turner.com for the chance to be included in an upcoming story on CNNMoney.com.