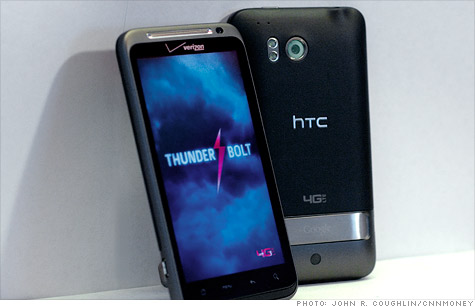 Move over iPhone? Taiwanese smartphone marker HTC has had a huge hit at Verizon with its Thunderbolt 4G phone.
NEW YORK (CNNMoney) -- If you are looking to invest in a smartphone maker, your choices at first seem limited to Apple and a bevy of also-rans that are taking turns auditioning for the dubious distinction of becoming the next Palm.
Shares of Motorola Mobility (MMI), maker of the Droid phone and Xoom tablet, have fallen 22% in 2011. Nokia (NOK) has plunged 41% this year as investors worry that the Finnish company's partnership with Microsoft (MSFT, Fortune 500) won't reverse the company's earnings and sales woes.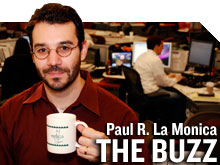 And then there's Research in Motion (RIMM). The Canadian maker of the BlackBerry and PlayBook tablet has lost more than half of its market value (and much of its credibility) this year as one earnings warning after another has investors fleeing for the exits.
But even Apple (AAPL, Fortune 500) hasn't had that great of year. The stock is up only about 4%. That leads me to the best-performing smartphone maker, one that you may not be as familiar with because it doesn't trade in the United States: HTC.
HTC is based in Taiwan and trades on Taipei's stock exchange. But shares have been, much like the company's marketing tag line, "quietly brilliant." The stock is up more than 15% this year in Taiwan.
The company has enjoyed strong sales around the world with phones running on Google's (GOOG, Fortune 500) Android operating system. In the U.S., HTC's Thunderbolt 4G phone for Verizon (VZ, Fortune 500) has been a particularly big hit.
According to a consensus of analysts that follow HTC's Taiwan shares, earnings are expected to increase at an average of nearly 30% a year over the next few years. Compare that to Apple, whose profits are expected to grow at a clip of 21% annually.
Even though HTC has more robust growth prospects, the stock trades for only about 12 times 2011 earnings estimates, a discount to Apple's P/E of about 14 times fiscal 2011 profit forecasts.
So should investors consider trying to cash in on HTC's success? And if so, how?
As fate would have it, HTC is a top holding in a relatively new exchange-traded fund of smartphone stocks: the First Trust NASDAQ CEA Smartphone Index Fund, or FONE (FONE).
That fund tracks a smartphone index which includes a large array of global companies in the mobile device business. In addition to the big smartphone makers, it also owns wireless chip companies, carriers and companies that operate cell phone towers.
But if you are looking for a way to own HTC that's more diverse than a collection of tech and telecom companies, several savvy global-themed mutual funds own the company as well. Two big holders are the Oppenheimer Developing Markets Fund (ODMAX) and Thornburg International Value Fund (TGVAX).
Lei Wang, a portfolio manager with the Thornburg International Value fund in Santa Fe, N.M., said that HTC should be growing more rapidly than Apple right now since the Android operating system is still relatively new compared to Apple's iOS.
HTC shipped about 25 million phones worldwide last year. Wang said that he thinks that number could increase to 100 million within the next two years.
"HTC has done a fantastic job. Nobody had heard of this company in the U.S. three years ago and now the brand is widely recognized," he said.
So the smartphone business isn't just about Apple. And while it's still probably best to steer clear of Nokia, RIMM and Motorola -- which may or may not need to reach out to a savior like Palm did with HP (HPQ, Fortune 500) -- having some exposure to funds that own HTC is a nice way to play the Android trend.
The opinions expressed in this commentary are solely those of Paul R. La Monica. Other than Time Warner, the parent of CNNMoney, and Abbott Laboratories, La Monica does not own positions in any individual stocks.