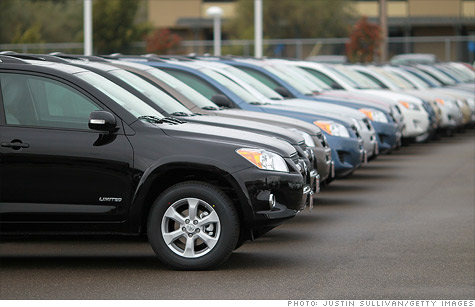 U.S. automakers report strong demand for fuel-efficient cars in June.
NEW YORK (CNNMoney) -- America's top three automakers reported June sales gains that were largely in line with expectations, as retail demand for fuel efficient cars remains strong.
But the two largest Japanese automakers continued to struggle last month with production problems caused by the March earthquake and tsunami.
Overall, auto sales rose in June at a slower-than-expected rate.
The industry-wide seasonally adjusted sales rate was 11.4 million units last month, up from 11.2 million in May, according to sales tracker Autodata.
Analysts had forecast an industry sales rate of about 12 million units.
Jeff Schuster, an executive director at J.D. Power and Associates, said June is typically a slow month for auto sales. He added that lackluster incentives and low inventory levels also pressured sales in the month.
"However, the fundamentals remain in place for a marked return to the recovery pace set in the first four months of the year," he said.
General Motors said total U.S. sales rose 11% in June versus the same month last year. Ford reported a 14% increase in total sales compared with last year.
Chrysler, the smallest of the big three U.S. automakers, said sales jumped 40% in the month. It was the best June for Chrysler since 2007, before it declared bankruptcy.
The gains were roughly in line with forecasts from analysts at TrueCar.com and Edmunds.com.
All three U.S. automakers said sales of cars that conserve gas were the best sellers. Gas prices have retreated from near-record levels in recent months, but remain high compared to last year.
"Strong demand for Ford's fuel-efficient cars and crossovers continues," said Ken Czubay, Ford's sales and marketing chief. However, in a sign the recent dip in gas prices may be changing consumers' attitudes, he added that demand for trucks has rebounded.
Ford (F, Fortune 500) said sales of its two small cars, Fiesta and Focus, rose a combined 66% in June compared with last year.
GM (GM, Fortune 500) also reported strong sales for its small cars, such as the Chevrolet Cruz.
"As it stands now, it looks like Chevy Cruze will be the best-selling car in the industry for the first time ever," commented Edmunds.com Senior Analyst Jessica Caldwell.
But GM told reporters in a conference call that it now expects sales for the year to be "near the low end" of its forecasted range of 13 million to 13.5 million units. The company said it sold 1.2 million vehicles in the first half of 2011.
Michelle Krebs, a senior analyst at Edumds.com, said GM sales were lower than she expected because the automaker has been working to reduce fleet sales. As part of its turnaround effort, GM has been trimming sales to rental car agencies and focusing on sales to retail buyers.
Meanwhile, Japan's auto industry continued to recover in June from the damage caused by one of the country's worst natural disasters.
Toytoa's (TM) U.S. division reported total sales in June that were down 21% from last year.
Don Esmond, a senior U.S. sales executive at Toytoa, said sales rose versus last month and that the company is "extremely optimistic" about the second half of the year.
"Toyota dealers now have a good supply of cars and trucks, and that selection is growing everyday," he said. "Returning production and new marketing programs will put us in a great position to take advantage of the summer selling season."
American Honda (HMC) reported a 24% drop in total U.S. sales during June.
"Honda is clearly suffering from low inventory -- the most of any automaker," said Caldwell.