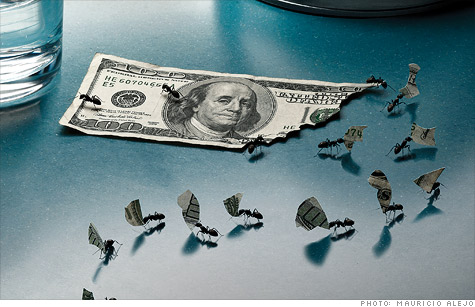 (Money Magazine) -- Feel more energetic in summertime? So do common house pests. Some, like stinkbugs, are merely gross; others, such as wasps and roaches, pose health risks. And then there are carpenter ants and termites, which can cause thousands of dollars of damage to your property.
The typical homeowner pays $8,600 to repair and prevent future attacks from a termite infestation, according to exterminator firm Terminix, and the cost generally isn't covered by homeowners insurance. So it's key to get on top of this scourge, either with prevention or early action. Below, a guide to what to do and how much you'll pay.
Keep the bugs away
Dry it out: Damp locations such as your lawn, kitchen, and even attic are a magnet for many pests, including carpenter ants and roaches. The main culprits: leaky sinks, refrigerators, and washing machines. Also avoid leaving plants in trays of standing water and keep pets' water bowls outdoors, says Bob Young, an entomologist at Terminix.
Seal the cracks: When it comes to stinkbugs, termites, and wasps, half the battle is keeping them outside. Termites feast on wood, so if you've got a firewood bin or yard waste container, move it at least three feet from your home's exterior walls.
Keep garden mulch at least one or two feet from your home's exterior. For about $25 to $50 an hour you can hire a handyman to repair tears in door or window screens, caulk holes in siding, apply weather stripping around doors, and repair cracks in floors or porches.
Get an inspection: Should you find out that carpenter ants or termites have invaded your neighbors' homes, it's worth paying $100 or so per year to have a pro inspect your property regularly, says Missy Henriksen of the National Pest Management Association, especially since that cost often includes some preventive treatments, and you may get an initial consultation for free.
Figure out which pests you're battling
Though both carpenter ants and termites destroy wood, the signs are different. Clusters of insect wings near windows and doors means you've probably got termites, says Jeff Whitworth, an entomologist at Kansas State University; finding piles of sawdust near your baseboards means that carpenter ants are the likely culprit. To guard against wasps, check for hives in the bushes and trees around your home and in gutters, eaves, and attics.
Know what it costs to get rid of them
To do it yourself: For the odd roach or wasp, it doesn't make sense to pay for a pro, says Whitworth. Your best bet is to sprinkle boric acid powder, insecticidal soaps, or diatomaceous earth, a fine white powder that dehydrates bugs (cost: about $30 at your local hardware store), under your kitchen cabinets, in closets, and around the outside of your home.
Skip fancy ultrasonic insect-repellent devices, which haven't been proven to work, says Timothy Gibb, an entomology professor at Purdue University.
If you see only a few stinkbugs, vacuum them up, says Greg Baumann, a pest control expert with Orkin. Don't crush them -- you'll release their stink.
To call a pro: See more than five or six roaches, ants, or stinkbugs and you should spend a couple hundred dollars on an exterminator. Carpenter ants and termites always call for professional treatment. Carpenter ant nests must be destroyed to solve the problem, which often means applying products inside the wall. Expect to pay several hundred dollars to eradicate ants from an average-size home.
To get rid of termites, you can easily pay several thousand dollars, depending on the extent of the problem. In areas where termites are common, spend a few hundred dollars on a termite warranty policy or "termite bond," which includes coverage for additional treatment in the event they return someday.
No matter what, when you hire a pest control firm, make sure it offers "integrated pest management" -- meaning it focuses on prevention and tries to minimize the use of harmful pesticides. Extra poison won't get you bug-free faster, says Whitworth -- but it will make your home less pleasant.