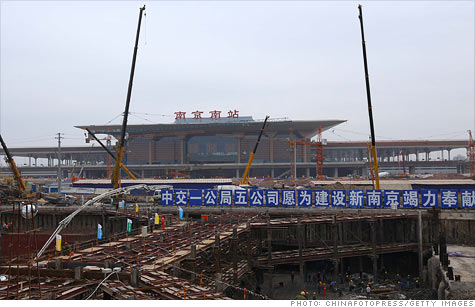 NEW YORK (CNNMoney) -- While China's economic growth remains far faster than that of Western nations, it eased slightly for the second quarter in a row.
China's economy grew at an annual pace of 9.5% between April and June, the National Bureau of Statistics said Wednesday. That marks a slight slowdown from the first quarter, when GDP grew 9.7% year-over-year.
Overall, China's economy has cooled significantly since the first quarter of 2010 when it was barreling along at an 11.9% pace.
Economists were expecting a gradual slowdown as Beijing tries to avoid a "hard landing" in which an overheated economy crashes suddenly. Government officials claim their policies have been effective in encouraging more sustainable growth.
"It's not an easy job for China to maintain fast and steady economic growth in a complicated and volatile international situation and (with an) increased dilemma of domestic macroeconomic management," Sheng Yunlai, spokesman of the National Bureau of Statistics told reporters Wednesday. "Our efforts are commendable."
The government has hiked interest rates five times since October, in an attempt to tame rapidly rising prices. Nevertheless, inflation recently soared to its fastest rate in three years, mostly due to rising food prices.
Because consumer spending accounts for roughly 35% of China's GDP, overall economic growth can slow when consumers are hit hard by an increase in prices.
That makes it more difficult for the Chinese government to achieve its other goal of boosting domestic consumer spending.
"We see very strong retail sales growth, but if you take out the price impact, then actually domestic consumption is not as strong as the data suggest," said Chi Sun, China economist with Nomura. "We continue to see investment growth outpace domestic consumption. We didn't really see the rebalancing happening."
Meanwhile, construction and industry -- which the U.S. State Department estimates account for 48.6% of China's economy -- recently slowed.
According to figures released two weeks ago, China's manufacturing activity dropped to an 11-month low in June. Other figures show China's services sector also cooled recently.
Exports, which contrary to popular belief make up only a small part of China's GDP, also moderated in June.
But many economists take China's official numbers with a grain of salt, suspecting that the government manipulates them.
In contrast to China's rapid growth, the U.S. economy is expected to have expanded only 2% in the second quarter, according to a CNNMoney survey of 27 economists. The Commerce Department will issue its initial report on second-quarter GDP on July 29.
--CNN's Helena Hong in Beijing contributed to this report