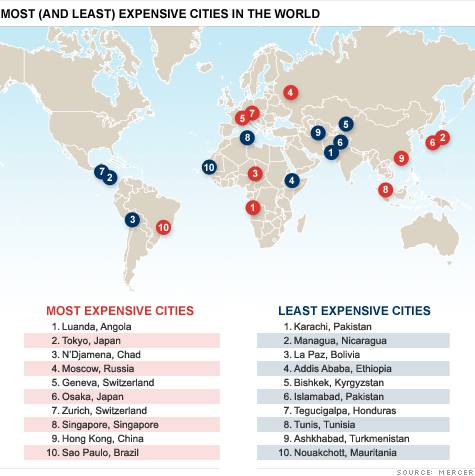 NEW YORK (CNNMoney) -- If you think New York is expensive, try Luanda, Angola where you'd pay $28 for a CD and about $20 for a club sandwich and a soda, according to an annual survey on the cost of living around the globe by consulting firm Mercer.
Costs are so high in Luanda for Americans that Mercer deemed it the most expensive city in the world for the second year in a row.
The biggest trend to emerge in this year's survey -- which compares the cost of housing, coffee, food, clothing and transportation for expatriates in 214 cities across five continents -- was that American and European cities slipped in the rankings, while African and Asian cities climbed.
Tokyo -- a consistent member of the top ten -- came in as the second most expensive city and N'Djamena Chad, came in third. Moscow and Geneva rounded out the top five.
"Overall, the cost of living in cities across Europe has remained relatively stable, while in Africa the picture is patchy, with the limited availability of accommodation leading to increased living costs in some key cities," said Nathalie Constantin-Métral, senior researcher at Mercer.
Rental prices for expatriates in Luanda jumped to record highs this year, thanks to limited availability of secure housing, the study found. Renting a luxury two-bedroom unfurnished apartment costs an average $7,000 per month in Luanda -- compared to $4,842 in Tokyo and $4,300 in New York.
"Finding good and secure accommodation for expatriate employees is a real challenge in most of the African cities on the list and costs can be significant compared to other regions," said Constantin-Métral.
Political upheavals, natural disasters and rising oil prices all influenced the results, but because the survey uses the cost of living in New York as the base for comparison, exchange rates had the most significant impact on the ranking of many countries, Mercer said.
Sao Paolo, for example, climbed 11 places to the 10th spot on the list thanks in part to the Brazilian currency's strength against the weakened U.S. dollar. In fact, the Brazilian city is now the most expensive place for expatriates in both North and South America.
New York remains the most expensive city in the United States, but it dropped five places on the international list (ranking 32nd worldwide), as rental prices continue to slip. Los Angeles, the second most expensive U.S. city, fell 22 places to 77th place.
Karachi, Pakistan won the distinct honor of being the cheapest city on the list. The lack of demand among companies to send employees to Karachi for security reasons makes it much easier to find affordable accommodations in the city, Mercer found.
Managua, Nicaragua is the next least expensive city, followed by La Paz, Bolivia, Addis Ababa, Ethiopia and Bishkek, Kyrgyzstan.