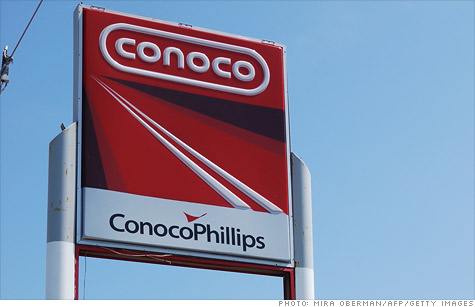 ConocoPhillips will split into two publicly traded oil companies
NEW YORK (CNNMoney) -- ConocoPhillips, the multinational oil and gas producer, announced plans Thursday to split into two stand-alone companies.
In a tax-free spin to shareholders, ConocoPhillips said it will separate its oil refining and marketing business from its exploration and production operations.
Shares of ConocoPhillips (COP, Fortune 500) rose nearly 6% in early trading.
The split will create two publicly traded companies: one that focuses on finding and extracting oil and gas around the world, and one that converts the crude into refined products such as gasoline that can be sold to consumers.
"We have concluded that two independent companies focused on their respective industries will be better positioned to pursue their individually focused business strategies," said Jim Mulva, chairman and chief executive of ConocoPhillips.
After the split is complete next year, Mulva plans to retire, the company said.
In a conference call with analysts, Mulva said the company's current integrated business model had served it well over the past ten years. But he said the move to create two "pure play" companies would allow ConocoPhillips to succeed "in a changing environment."
"This has been an evolving process and it's a big step by our company," said Mulva. "We are absolutely convinced that this is the right thing to do for our company and now is the right time to do it."
ConocoPhillips said the split will not change its plans to buy back $10 billion worth of the company's stock this year.
The announcement follows Marathon Oil (MRO, Fortune 500)'s decision in May to spin off its refining business by forming Marathon Petroleum Corp. (MPC), a stand-alone company.
The move boosted Marathon's value by 40%, according to Fadel Gheit, an industry analyst at Oppenheimer.
"It's a very smart move," said Gheit. "It will create a lot of value for the company over the next six months or so."
ConocoPhillips is the smallest of the so-called super major oil companies, including ExxonMobil (XOM, Fortune 500), Chevron (CVX, Fortune 500) and Royal Dutch Shell (RDSA).
The split will create the industry's largest company focused purely on exploration and production of fossil fuels.
ConocoPhillips said it expects to produce 1.7 million barrels of oil or equivalent product per day in 2011.
The new refining and marketing company is expected to focus on converting crude oil from Canada for the U.S. market. It will develop alternative sources of energy, Mulva said.
The refining business has weighed on profits for many big U.S. oil companies in recent years as the price of crude has risen while energy demand has fluctuated with global economic growth.
ConocoPhillips reported annualized revenue of $226 billion as of March.
ConocoPhillips' refining and marketing business earned nearly $800 million in the first quarter, according to regulatory filings.
By contrast, ConocoPhillips' global exploration and production operations brought in $4.6 billion in the first quarter.
ConocoPhillips is scheduled to report second-quarter results later this month.