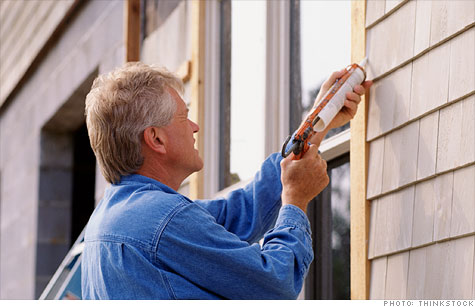 The number of jobs in the energy efficiency field is set to grow up to four-fold over the next 10 years, but even now vacant positrons can't be filled.
NEW YORK (CNNMoney) -- The prospects for finding a job in most areas of the economy may be getting bleaker by the day, but one sector stands out: energy efficiency.
Over half the energy professionals surveyed recently said they cannot find enough qualified people to meet current hiring demands in this fast-growing industry.
And the problem is only set to get worse.
Over 100,000 people currently work in a variety of energy efficiency roles -- everything from contractors fixing and installing windows to managers running efficiency programs at utilities.
That number is expected to jump up to four-fold in the next ten years, said Suzanne Jones, a spokeswoman for the Association of Energy Services Professionals.
"There's a giant labor gap here," said Jones. "Utilities and others are scrambling to fill these positions, but it's an acute problem."
The jobs include contractor positions, people that come over to your house and caulk your windows and replace your furnace as part of an energy retrofit.
These contractors recently got a huge boost when Obama set aside billions for energy retrofits as part of the stimulus package in 2009.
But most of the energy efficiency jobs will be for sales specialists, program managers and engineers involved in the push by utilities to squeeze every last bit of energy out of the existing power grid.
A program manager's job could include things like getting a group of office building owners together to agree to let a utility automatically turn down the air conditioners in a group of buildings during a heat wave.
That action would reduce demand on the electricity grid, and save the utility the expense of having to build another power plant.
It could also include getting several thousand homeowners to sign up for an energy efficiency retrofit.
Engineers are needed to both design the software that allows utilities to run programs like turning down air conditioners and to construct and operate more efficient generators.
Currently, thousands of these positions are vacant, said Jones.
And the pay's not bad either. Most jobs have salaries of between $50,000 and $150,000 a year.