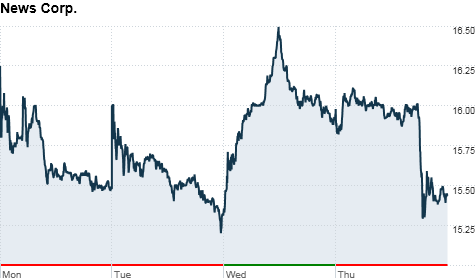 Click chart for more on News Corp.
LONDON (CNN) -- Rebekah Brooks, former News of the World editor and chief executive of News International, has resigned in the wake of the phone hacking scandal, News International said Friday.
Brooks, who was editor at the time of some of the most serious allegations against the newspaper, has been under pressure to step down since the scandal broke.
Shares of News Corp. (NWSA, Fortune 500) have dropped nearly 8% this week and were trading 2% lower in premarket trading Friday.
"As chief executive of the company, I feel a deep sense of responsibility for the people we have hurt and I want to reiterate how sorry I am for what we now know to have taken place," Brooks said in a statement through News International.
"I have believed that the right and responsible action has been to lead us through the heat of the crisis," the statement continued. "However my desire to remain on the bridge has made me a focal point of the debate."
She said the focus on her is "detracting attention" from endeavors to fix the problems, and her resignation gives her more time to fight the allegations against her.
"As you can imagine, recent times have been tough. I now need to concentrate on correcting the distortions and rebutting the allegations about my record as a journalist, an editor and executive," she said.
Labour leader Ed Miliband welcomed her resignation in a post on Twitter.
"It's right Rebekah Brooks has finally taken responsibility and resigned. Mr Murdoch still hasn't apologized to the victims of phone hacking," he tweeted.
Tom Mockridge will replace Brooks, Rupert Murdoch's News Corp. said Friday. Mockridge is a former newspaper journalist who has been the chief executive of Sky Italia since 2003.
James Murdoch, Rupert's son and chairman of News International, said Mockridge was an "outstanding executive with unrivalled experience across our journalism and television businesses."
He added: "I believe that Tom is the best person to move the company forward to a brighter future."
A day before she resigned, Brooks agreed to attend a hearing before British lawmakers next Tuesday into the phone-hacking scandal. However, she said her answers might be limited by ongoing police and judicial inquiries.
Brooks, the youngest person to edit a national British newspaper, had seemed destined for a stellar rise through the ranks of News Corp.
She became chief executive of the company's British subsidiary in 2009 after editing the country's best-selling daily tabloid, the Sun, and News of the World.
News of the World, a 168-year-old newspaper, folded over the weekend in the wake of accusations that its reporters illegally eavesdropped on the phone messages of murder and terrorist victims, politicians and celebrities.
The turmoil also forced News Corp. to withdraw its $12.5 billion bid to purchase all of British Sky Broadcasting, Britain's largest pay-TV provider with more than 10 million customers.
Police in the United Kingdom have identified almost 4,000 potential targets of phone hacking.
There were also allegations that reporters may have bribed law enforcement officers.
The FBI is investigating News International's parent company, News Corp., after a report that employees or associates may have attempted to hack into phone conversations and voice mail of September 11 survivors, victims and their families.
Speaking to reporters in Sydney, U.S. Attorney General Eric Holder said Friday his office is looking into requests by lawmakers to begin an investigation into the operations of News Corp.
"There have been serious allegations raised in that regard in Great Britain, there is an ongoing investigation," he said. "There have been members of Congress in the United States who have asked us to investigate those same allegations. And we are progressing in the regard using the appropriate federal agencies in the United Sates. "