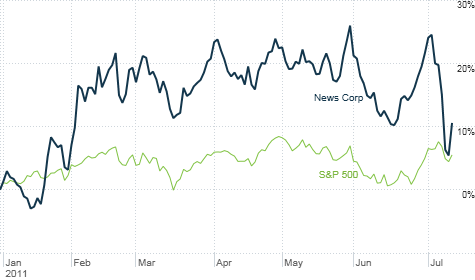 News Corp.'s stock has taken a big hit in the wake of the voicemail hacking scandal and is lagging behind other media stocks. But it's still outperforming the broader market.
NEW YORK (CNNMoney) -- It has been a tough couple of weeks for Rupert Murdoch. Not that anyone is going to have sympathy for the often-demonized News Corp. CEO.
Murdoch's media conglomerate finally bowed to intense political pressure in the United Kingdom Wednesday and shelved plans to buy the remainder of satellite TV company British Sky Broadcasting, or BSkyB, that it didn't already own.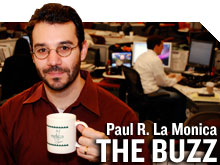 News Corp. has been embroiled in a massive scandal. The company shut down its News of the World tabloid due to allegations that the paper hacked into the voicemails of British celebrities, politicians, family members of dead soldiers and even a teenaged murder victim.
Before the phone hacking scandal spiraled out of control, News Corp (NWSA, Fortune 500). stock was performing quite well. But even with a 5% pop Wednesday after it backed out of the BSkyB deal, the stock is still down more than 10% since the beginning of last week.
Shares of News Corp. are up 11% year-to-date, lagging the gains of other big media stocks such as CBS (CBS, Fortune 500), Viacom (VIAB, Fortune 500), Comcast (CMCSA, Fortune 500) and CNNMoney parent company Time Warner (TWX, Fortune 500).
If there's any consolation for Rupert, his shares are still up more than Walt Disney's (DIS, Fortune 500) this year. Take that Bob Iger!
So what's next? As my colleague Katie Benner at Fortune points out, News Corp. now has to find something better to do with its cash. And the $5 billion stock buyback announced Tuesday may not do the trick. Some media experts are even predicting that this is the beginning of the end for Murdoch.
But despite all the uproar (which is deserved mind you) about the voicemail hacking, I think that the predictions that this will lead to the demise of the Murdoch era are widely overblown.
For one, Murdoch and his family hold about 40% of the voting shares of News Corp. Sure, that's a plurality and not a true majority.
But it's awfully tough to imagine a full-scale revolt from all other shareholders that would push Rupert and his son James, who is CEO of News Corp.'s international operations and the obvious heir apparent to Rupert, out.
After all, Saudi Prince Alwaleed bin Talal is another big News Corp. shareholder and he has publicly backed both Murdochs.
And here's the other thing that is getting lost in this story. This scandal is making big headlines now. But it will eventually fade.
While what the "journalists" at News of the World did was morally repugnant, it's silly to think that there will be an anti-News Corp. backlash to protest this that hurts the company in the long run.
Now that the BSkyB deal has been shelved and News of the World is dead, does anyone really believe that consumers (especially in America) will boycott News Corp. media properties?
My bosses may not like hearing this, but guess what, I watched baseball's All-Star Game on Fox last night as did millions of other Americans. I am not throwing away my "Star Wars" DVDs.
And is anyone going to stop reading The Wall Street Journal because of this? Will sources stop talking to reporters there? Will advertisers pull out? Please.
Media watchers -- especially those envious of Murdoch's success over the past few decades -- get all up in arms about bad news practices. "Real" people do not. Their memories are short.
"Investors need to take a deep breath and realize there will be a lot of noise," said Larry Haverty, manager of the Gabelli Global Multimedia Trust (GGT), a Rye, N.Y.-based fund that owns News Corp. shares. "But once the clamor for ritual sacrifice fades, people will realize that the assets News Corp. has are extremely attractive."
Haverty said that six months from now, he expects that investors will be more excited about how much money News Corp. -- as well as other media companies like Time Warner -- will make from political ads during what's sure to be a ridiculously contentious presidential campaign.
It's fair to debate whether it is the right time to buy media stocks. But if you are a media bull, it's hard to imagine how News Corp. can remain left behind in a broader sector rally for that much longer.
Yes, losing the chance to get full control of BSkyB will sting. But the simple fact of the matter is that News Corp.'s core businesses -- the U.S. broadcast and cable networks and its movie studio -- are doing extremely well.
That's helped lift the company's overall operating profits more than 15% in the first nine months of its current fiscal year.
So it may be an overreaction to worry about what the fallout from the hacking scandal will do to sales and profits in the short-term.
What investors may actually have to worry about is whether Murdoch has lost his Midas media touch.
Just before the News of the World maelstrom, Murdoch was being lampooned for how poor of a job his company did with social networking site Myspace.
News Corp. bought Myspace parent Intermix in 2005 for $580 million and stubbornly refused to take Facebook seriously as a competitive threat. Last month, Murdoch finally threw in the towel, selling Myspace for a mere $35 million.
Even News Corp. bulls concede that Murdoch may get too enamored with objects he covets and winds up paying too much for them. Haverty said he believes News Corp. drastically overpaid for Dow Jones.
Don Yacktman, manager of the Austin-based Yacktman (YACKX) and Yacktman Focused (YAFFX) funds, said he thinks the stock's rise Wednesday is essentially a sigh of relief from investors who felt Murdoch was going to pay too much for BSkyB. News Corp. is the largest holding in both funds.
It is also legitimate to question whether James, who has not emerged from the hacking scandal unscathed, is the right man either. Some on Wall Street are probably wishing that his long-time lieutenant Peter Chernin was still around to keep Rupert in check.
But Haverty said that current COO Chase Carey, who formerly was CEO of satellite broadcaster DirecTV (DTV, Fortune 500), is also widely respected. Yacktman agreed.
"Carey is no slouch. News Corp. has a deep bench if that's necessary," Yacktman said.
So the question may be whether non-Murdochs on News Corp.'s board, (eldest son Lachlan is also on the board) need to step up and exert more influence.
In addition to Carey, investors probably wouldn't mind if Thomas Perkins, the venture capitalist who has first-hand experience dealing with a phone hacking scandal when he was on the board of Hewlett-Packard (HPQ, Fortune 500), also played a more prominent role.
But It's doubtful that Murdoch will ever give up control of the empire he founded. Because of the dual class structure, it will continue to be run more like a fiefdom than your average public company. And it's that, more than unethical journalistic practices, which should worry investors.
The opinions expressed in this commentary are solely those of Paul R. La Monica. Other than Time Warner, the parent of CNNMoney, and Abbott Laboratories, La Monica does not own positions in any individual stocks.