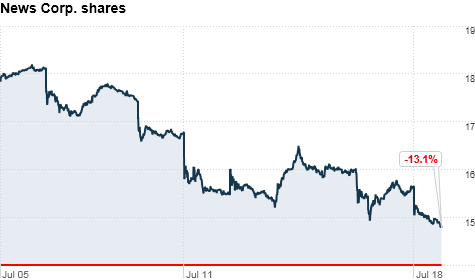 Click chart to track News Corp. shares.
NEW YORK (CNNMoney) -- Shares of News Corp. slid to a six-month low Monday as a cell phone hacking scandal continued to engulf Rupert Murdoch's media empire.
Shares closed down 4.32% to $14.97 Monday, and the company has lost more than $8 billion in market capitalization since July 5.
Late Monday, credit agency Standard & Poor's said it was placing News Corp.'s "BBB+" corporate credit rating on "CreditWatch Negative," meaning S&P may downgrade News Corp's credit within the next 90 days.
The widening scandal "materially increases the reputational, management, litigation, and other risks currently faced by News Corp. and its subsidiaries," said Standard & Poor's credit analyst Michael Altberg in a prepared statement.
On Sunday, Rebekah Brooks, a former top News Corp. (NWSA, Fortune 500) executive, was arrested in connection with British police investigations into phone hacking and police bribery. She was released around midnight -- 12 hours after her arrest.
It was only on Friday that Brooks resigned as chief executive of Rupert Murdoch's News International, which published the News of the World and is part of News Corp.
It is alleged that News of the World reporters hacked into the cell phone accounts of celebrities, a 13-year-old murder victim and the families of dead British soldiers.
Brooks is the tenth person to be arrested in connection with the phone-hacking probe and the fourth arrested in the bribery investigation, police said Sunday.
The scandal has rocked Britain for the past two weeks, and jumped the pond on Friday with the resignation of Les Hinton, the chief executive of Dow Jones, another of Murdoch's media holdings.
Hinton had been with News Corp. 52 years, and for much of that time played a critical role in Murdoch's media empire. But after Rebekah Brooks' departure, he was the next executive to emerge with a target on his back.
In addition to Dow Jones, News Corp. owns outlets including The Wall Street Journal, Fox News and the New York Post. On Wednesday, News Corp. withdrew its $12.5 billion bid to purchase all of British Sky Broadcasting.
The office of UK prime minister David Cameron confirmed Monday that Cameron was cutting short a trip to Africa and would return to the U.K. following the resignation of two top London police officials.
It is alleged that police accepted payments from journalists in exchange for confidential information. Cameron said Monday that he will request a special session of Parliament on Wednesday to address the scandal.
The FBI is now also getting involved, considering a probe into the news organization amid allegations that Sept. 11 survivors, victims and their families had their voicemails hacked as well.
-- The CNN Wire and CNNMoney's Blake Ellis contributed to this report.