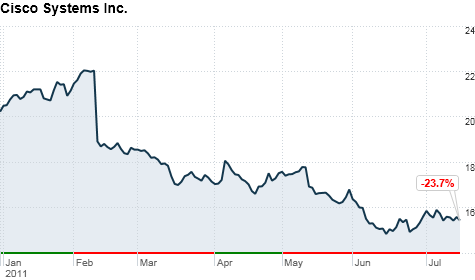 Shares of Cisco have fallen sharply this year.
NEW YORK (CNNMoney) -- Cisco announced plans on Monday to lay off 9% of its workforce and to transfer another 7% of its staff to another company in a sale of one of its businesses.
The networking giant said it would hand out pink slips to 6,500 employees, including 2,100 who volunteered for early retirement packages.
The move is part of a previously announced plan to streamline Cisco's business in an attempt to clarify the company's role in the tech world. Cisco has struggled to grow in recent quarters, and CEO John Chambers' tone has grown increasingly pessimistic.
In April, Cisco shuttered its Flip video camera unit and simplified its corporate organization chart.
In a memo to employees in April, Chambers wrote that the company would take "bold steps" and make "tough decisions."
Cisco is aiming to cut $1 billion in annual operating expenses.
But getting there will involve some hefty one-time charges: Included in the 6,500 employees being cut, Cisco expects 15% of the vice president level and above to lose their jobs (see correction below). Those top brass will be taking home some sizeable early retirement packages.
Cisco said Monday it expects to incur up to $1.3 billion in severance expenses, most of which will be recognized during the current quarter, which ends July 31. The rest will be realized during the company's next fiscal year, which begins in August.
In addition to the layoffs, Cisco also announced that it will sell its set-top box manufacturing facility located in Juarez, Mexico, to Foxconn, the Chinese company best known for manufacturing the iPhone and iPad designed by Apple (AAPL, Fortune 500).
About 5,000 Cisco employees at the Juarez facility will be transferred to Foxconn over the next several months.
The company said it is selling the facility to "create improvements to Cisco's long term cost structure" and "to simplify business operations."
At the end of April, Cisco employed 73,400 staff. Excluding new hires, that headcount will be reduced to about 62,000.
Shares of Cisco (CSCO, Fortune 500), which fell 1% during regular trading hours on Monday, hardly budged in afterhours trading.
Correction: An earlier version of this story incorrectly stated that 15% of all job cuts would be from the vice president level and above.