American Airlines CEO: 'We're facing a fuel crisis'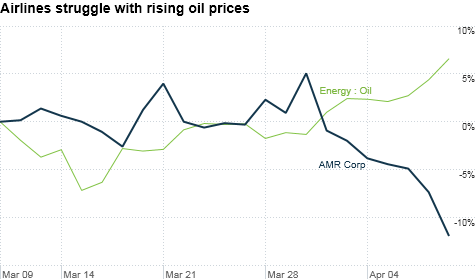 DALLAS (CNNMoney) -- Just as major airlines have started getting their balance sheets back in order, they're bracing for the impact of skyrocketing oil prices.
"We're facing another fuel crisis, and crisis is not too strong of a word," said American Airlines CEO Gerard Arpey, speaking at a conference of business journalists in Dallas.
Last year, airlines had their best year in a decade, carving out a slim 2% profit margin. But oil prices have soared more than 20% in 2011, and that will increase jet fuel costs, which claim a large chunk of airline operating costs.
As violence in the Middle East and North Africa stokes fears that the political turmoil will spread to other oil producing countries, crude prices continue to climb. And that's adding upward pressure to fuel costs.
On Friday, crude oil prices settled at a fresh 2-1/2 year high of $112.79 a barrel.
Arpey said he's also concerned that higher energy prices will stall the economic recovery and decrease traffic as Americans pull back on overall spending, including travel budgets.
"We're all very worried about what's happening in the oil market," Arpey said. "If the economic recovery dampens, it won't be good for traffic."
The concerns come less than less than three years after the economy suffered its last fuel crisis.
In the summer of 2008, crude oil prices surged to nearly $150 a barrel.
As prices continue to creep higher, investors are getting nervous about the state of airlines' affairs. Shares of American parent AMR (AMR, Fortune 500) fell more than 5% Friday.
Other airlines were also under pressure. Shares of Delta (DAL, Fortune 500) slid 4%, JetBlue (JBLU)'s stock fell 5% and shares of UnitedContinental (UAL) were down nearly 7%.