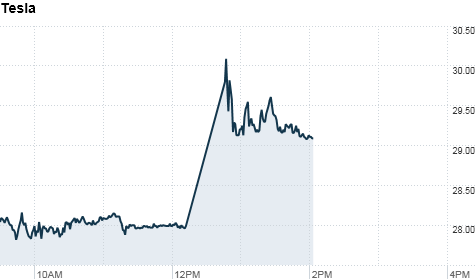 Click the chart for more data.
NEW YORK (CNNMoney) -- Shares of Tesla Motor jumped nearly 5% on Wednesday after the company disclosed a $100 million deal with Toyota to provide parts for an electric version of the Rav4.
Tesla will provide an "electronic power train system" for Toyota's crossover SUV, which is expected to start production next year, according to a regulatory filing.
Shares of Tesla rose $1.30, or 4.6%, to $29.19 in afternoon trading. Toyota's stock was flat a $84.30 a share.
Under the agreement disclosed Wednesday, Tesla will supply Toyota with all the parts necessary to power an electric Rav4, including a battery, charging system, inverter, motor, gearbox and software.
Tesla (TSLA) will also provide certain services related to the company's battery and powertrain technology.
The Japanese auto giant announced plans to invest $50 million in the boutique electric carmaker last year as part of a partnership to develop new technology.
Toyota (TM) did not immediately respond to a request for comment.
The two automakers announced plans last year to produce an electric Rav4, but they had not previously disclosed the agreement's financial terms.
Tesla currently sells the Tesla Roadster, a two-seat electric sports car that goes for over $100,000. In 2012, the company plans to begin production of the Model S, an electric sedan capable of seating up to seven people. That car will be built at a Fremont, Calif., plant that had been jointly operated by Toyota and General Motors (GM, Fortune 500) prior to GM's bankruptcy.
Toyota used an earlier version of the Rav4 as an electric vehicle in the 1990s during a time that California required automakers to sell vehicles with engines that produced zero emissions. That electric Rav4 competed against GM's EV1 electric car.
Some of those electric Rav4s are still in operation, including several that Toyota uses at its Newark, N.J., port facilities.
Toyota, which is already the industry sales leader in gas-electric hybrid cars, is also looking for other partners to develop future alternative fuel technologies. In fact, executives have said they expect collaboration with other companies to be a key part of Toyota's alternative fuel strategy.
Toyota executives have, in the past, expressed doubts about the market potential for purely electric cars. They cited the vehicles' high cost, relatively short driving distance, long charging times and questionable battery technology.
Last year, Toyota revealed a concept version of a tiny electric "city car" with a 40-mile range. That car was under development, Toyota said at the time, and intended primarily for short-term rental use within cities.
Toyota plans to introduce a plug-in version of the Toyota Prius hybrid in 2011, but that vehicle would still use a gasoline engine as its primary power source.
-- CNNMoney senior writer Peter Valdes-Dapena contributed to this report.