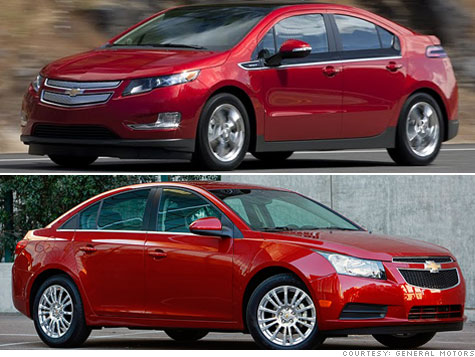 FORTUNE -- The similarity between the Chevrolet Corvette and the Chevrolet Volt isn't immediately obvious. It's revealed in the way General Motors has used a tried-and-true marketing ploy to score a home run.
Corvette, meant to sell in limited numbers to sports car fanatics, was positioned in the day to impart a halo of sexiness and fire-breathing performance over the Chevrolet brand.
The Volt, a small gas-electric hybrid that is selling in small numbers, is winning Chevrolet a new reputation -- this time for high technology, especially the sort that saves gasoline and maybe the planet.
Customers that drooled over the Corvette eventually bought an Impala or another Chevy model. Customers who admire Volt for its engineering cleverness are choosing the Cruze or Malibu. In other words: GM's marketing for Volt is working to a T.
GM sold a mere 567 Volts in June. But the entire Chevrolet car lineup was the payoff, almost 80,000 vehicles sold for the month, up 32% over last year. The single best seller was Cruze, GM's new small car that is positioned to compete against the new Focus from Ford (F, Fortune 500) and Japanese models like the Honda Civic.
It's no coincidence that Volt and Cruze share a common architecture and resemble one another, especially when whizzing down the road.
"Most of the dealers we've surveyed use the Volt as a bridge to show other Chevy products," says Art Spinella, president of CNW Research in Bandon, Ore., which specializes in automotive research. "About 80% of the people who go see it aren't intenders, they're just going to see what it's like."
They walk in to see Volt and walk out with keys to a Cruze.
GM (GM, Fortune 500) insists on categorizing Volt as an "extended range electric vehicle," EREV for short. In my book it's a hybrid, a cousin to Toyota's Prius, except that Volt can travel a full 40 miles on battery power only. But, really, who cares? The fiercer the debate, the more attention gets paid to Volt and the more Cruzes get sold.
Thirteen years ago, when Toyota (TM) introduced its first Prius, skeptical GM executives dismissed it as a marketing exercise. They weren't wrong, though Prius has also developed into a true mainstream product and sub-brand, as well as the No. 1 seller in Japan.
GM's Volt, at $40,000 to purchase or $350 a month to lease (with more cost for a quick-charge setup, if desired), isn't particularly practical or economical, in terms of energy conservation. At least not yet. Without a garage, a considerable hurdle for some city dwellers, there's limited availability for charging the battery.
Impracticalities aside, the Volt is a car worth owning. It's a great engineering execution that is fun to drive, especially if you believe that consuming gasoline is somehow an affront to the human condition.
GM is taking orders in all 50 states, delivering only in seven due to limited production. Production is scheduled to increase this year, expanding availability to the entire nation. Michelle Bunker, a GM spokesperson, said that when the automaker offered Volt test drives at a dealership in Anchorage, 117 people signed up.
Very few Alaskans will be driving Volts anytime soon. If it's greater fuel-efficiency they're looking for, more than a few could trade in their pickups for a Tahoe hybrid.