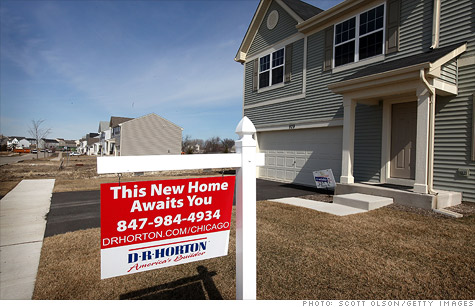 Home buyers unexpectedly pulled out of contracts last month, driving down home sales by 0.8%.
NEW YORK (CNNMoney) -- Sales of existing homes dipped in June as buyers unexpectedly backed out of contracts, according to an industry group.
Home sales fell 0.8% to a seasonally adjusted annual rate of 4.77 million, down from 4.81 million in May, the National Association of Realtors said Wednesday.
Economists had expected a June sales rate of 4.93 million homes, according to consensus estimates from Briefing.com.
"A variety of issues are weighing on the market including an unusual spike in contract cancellations in the past month," said Lawrence Yun, the chief economist at NAR.
Yun said the reason behind the spike was unclear, but he pointed to tight credit and low appraisal prices as possible culprits.
In addition, he said the weak economy and concerns over the federal budget deficit "may be causing hesitation among some consumers or lenders."
Meanwhile, the national median home price in June was $184,300. That's up from $169,300 in May and $182,900 a year ago.
The modest rebound comes after a prolonged drop in prices, which had been driven lower by a glut of foreclosed homes in the wake of the housing crisis. In June, distressed properties made up 30% of total sales.
There were 3.77 million existing homes on the market at the end of June, according to the report. At the current sales rate, it would take over 9 months to sell through that inventory.
Despite the drop in prices over the last few years and historically low mortgage rates, the realtors said high lending standards have kept many potential buyers at bay.
"With record high housing affordability conditions thus far in 2011, we'd normally expect to see stronger home sales," said Ron Phipps, the president of NAR.
The report was "a bit disappointing," said Ian Shepherdson of High Frequency Economics. "But [it] does not imply any further softening in the underlying trend in sales."
After falling to an all-time low in February, home sales had shown some signs of improvement in March and April.
Sales fell in May due to a combination of severe weather and high gas prices.
In June, sales of single-family homes held steady, while condo sales fell.
Home sales rose in the Midwest and South, but the gains were offset by declines in the Northeast and West.