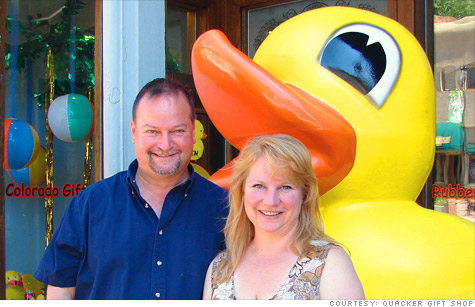 Steve Kudron and Jennifer Brown went from a $2 rubber duck to $1 million in revenue.
NEW YORK (CNNMoney) -- Since founding Quacker Gift Shop in 2005, Jennifer Brown and Steve Kudron get this question a lot: Is there money in selling rubber ducks?
Yes. So far, about a million dollars worth.
Their duck-themed shop -- selling everything from a wedding greeting card to the ubiquitous rubber duckie -- attracts customers of all ages, and Denver-area tourists, too. "How do you turn a $2 duck into a million-dollar business? It's because you grab a hold of something people know and remember, and you leverage that," said Kudron.
There's plenty to leverage. Rubber ducks became popular in the 1970s after Ernie the Muppet from "Sesame Street" made the song "Rubber Duckie" famous.
In February, the company hit its first million dollars in sales. To keep the business afloat, Quacker Gift Shop runs duck races around the country, sells wholesale to other retailers, takes orders through its website (quackergiftshop.com). It also operates two Colorado stores -- one in Englewood, next to its warehouse; and the other in Manitou Springs, which opened earlier this year. Last year, the company hired its first employee.
Brown, a former hedge-fund manager, was thrilled at the news their company had crossed over the million-dollar-revenue mark. But she refused to rest on her laurels.
" 'It's time to wear big-girl pants now,' " Brown told herself that day, before phoning in larger orders to fill their 3,000-square-foot warehouse in Englewood, Colo. "We knew last year we were getting really close, and we started looking at lines of inventory that we couldn't look at before.''
One of those lines was Hello Kitty, an expensive account. But Brown believed that it was time to make the investment. She expects Hello-Kitty-themed rubber ducks to be a hit.
Variety is apparent at their online store, which launched in 2007. The website offers tiny rubber ducks, jumbo-sized, holiday-themed and 100-percent recycled ones. Karen Wuertz of Denver is a frequent customer. "I love my Barack Obama duck, and it sits proudly on my mantel," she said. "For my son's birthday we filled up a whole box with pirate ducks and hockey ducks."
Good business model: "Because of their narrow niche, growing Internet presence and by selling on their website, they're far less susceptible to failure," said Dick Outcalt, co-owner of Outcalt and Johnson Retail Strategists LLC in Seattle, and publisher of The Retail Owners Institute. "They can attract customers from around the world in case local customers go into a recession."
Outcalt added that making "a million dollars in sales is great -- if the other financial numbers are in place."
Starting the company brought a challenge familiar to most small business owners. "Access to capital was a huge problem,'' said Brown. ''If you don't have capital you can't grow."
The couple approached microlender ACCION New Mexico-Arizona-Colorado in 2008. They obtained one of the microlender's first five loans issued to small businesses in Colorado. Microlenders can provide financing when traditional lenders are not available, said Kubron.
The loan helped the duo open their first store and increase inventory. The Quacker Gift Shop name didn't debut until 2006. Originally called The Soapbox Co., their homemade-soaps line is now called Delish Body Works.
Rubber duckie, you're the one
The couple's love affair with rubber ducks began by accident. Seven years ago, Brown created all-in-one loofah sponges with soap that she initially sold at fairs and festivals.
It only cost her $50 to start the home-based business, because the cost of making the products was cheap. She quickly began to earn money. "I made $250 from my $50." Determining that a cute, kid-friendly theme would rake in even more dollars, "I put a rubber duck in my soap -- for a duck float," she explained.
Kudron, who was at a crossroads in his career after running sales teams at a media group's newspaper, quickly became co-owner. The two tooled around Colorado in a bright-yellow vehicle. "We had 10,000 ducks on our trailer at all times," said Brown. "We'd pull up, and people would just go bananas."
The love for rubber duckies continues. Yolanda Perez, who has a duck-themed bathroom, made her first trip to Quacker Gift Shop last week. "I went in to get a black-and-white duck for my daughter and I came out with 47 ducks," she said. "I got a wedding set -- and the farmer set, too. It is the most amazing store. I had never seen a store quite like it."
Do you have an interesting company that just crossed the million-dollar-in-revenues mark in the last year? Send your story and contact information to realstories@turner.com, and you could be featured in an upcoming article on CNNMoney.