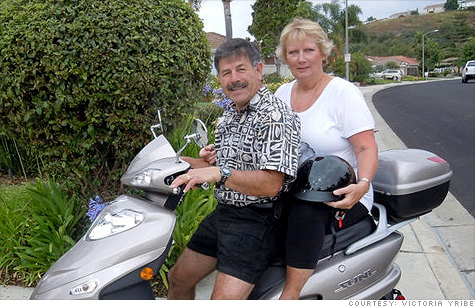 Victoria and Ernest Yribe go everywhere on their new Shenke scooter, which they estimate saves them about $70 a month on gas.
NEW YORK (CNNMoney) -- With prices at the pump still painfully high, drivers are swapping their gas-guzzling cars for Vespas and other more wallet-friendly two-wheelers.
Victoria Yribe's husband, Ernest, had been begging for a scooter for years. On his 60th birthday, the couple went to see the movie "Larry Crowne." During a scene that takes place at a gas station, the main character, Larry, is pumping gallon after gallon of gas into his SUV when a scooter pulls into the station and fills up with $3 of gas. Ernest saw this as his chance and elbowed Victoria, "Honey, honey, look at that! That's why I really need a scooter!"
Little did Ernest know, a mint-condition 2008 silver Shenke scooter was waiting for him in the garage at their Oceanside, Calif. home.
The new ride -- which cost $1,195 -- replaced their second car, an old Jeep they sold on Craigslist for $3,000. While it cost $45 to fill up the Jeep's tank, which got 18 miles per gallon, they've only spent about $5 to fill up the 1.5-gallon tank of the new scooter, which gets 80 miles to the gallon. Per month, the Yribes estimate they will save about $70 on gas -- or about $840 a year.
"The thing can go 45 miles per hour on the street, so we go everywhere on it -- it's really the only way to go," said Victoria. "[E]ver since we've done this, we've been seeing them everywhere."
That makes sense. Gas prices have surged around 30% this year. As a result, sales of more fuel-efficient motorcycles and scooters have been climbing, too.
Scooter sales have soared 37% from the beginning of the year to May, according to the Motorcycle Industry Council. Overall motorcycle sales -- including scooters -- rose 7% in the first quarter, while sales of dual-purpose bikes -- the most fuel efficient motorcycles -- jumped by nearly 25% in that same period, the industry group said.
Point Loma Scooters, a shop in California selling "European boutique" style scooters, said it typically sells up to 20 scooters a month. But in May -- as gas prices started spiking -- sales at the store jumped to at least 50 scooters a month.
It's hard to resist the math: Over the past year, Americans paid an average of $177 a month on gas -- an 18% jump from an average $150 a month spent during the previous year, according to data compiled by Mint.com. While Mint.com didn't calculate the average gas costs for scooter and motorcycle riders, the scooter converts CNNMoney interviewed pay under $20 and $40 a month, respectively.
Scooters -- which run anywhere from about $1,500 for a used Swift 50cc to more than $10,000 for a customizable, more spacious customizable Suzuki Burgman -- are relatively cheap, too. Motorcycles, meanwhile, can cost anywhere from $4,500 to $40,000 for a really high-end bike.
Insurance costs are much lower for scooters and motorcycles, as well. Ty VanHooydonk, a spokesman for the Motorcycle Industry Council and a Motorcycle Safety Foundation rider coach, pays less than $500 a year to insure all five of his motorcycles -- a fraction of the $650 that his wife pays to insure her 1998 Audi.
"If you switch out four wheels for two, you can easily save upwards of $5,000 a year" on insurance, parking, maintenance and gas, said VanHooydonk. "I always ask my students what brings them in to learn how to ride a motorcycle, and more and more, you're getting the hands raised talking about saving money. The old American dream was a house with two cars -- now it's a house, one car and a motorcycle or scooter."
Scooters do have limitations, however. Even though some higher-end scooters can go as fast as 80 miles per hour, many max out at 45 miles per hour or less. And while scooters can get as many as 100 miles per gallon, the average tank can only hold two to three gallons. So taking a long road trip -- especially in bad weather conditions -- is often not a viable option.
There are a few other drawbacks to the two-wheeling lifestyle, including safety. With a rising number of scooter and motorcycle riders, there's an elevated risk of accidents, said Joe Paolucci, cofounder of the New Orleans Scooter Cooperative. Recently, Paolucci was in a serious accident after being run off the road by truck driver who didn't see him on his scooter.
"With the increased amount of scooters on the road, there is also increased danger," he said. "Many people view scooters as safe and fun, and many people do not take the time to familiarize themselves with basic rider safety."
While the National Highway Traffic Safety Administration echoed Paolucci's concerns, it says an increased awareness of safety precautions -- like wearing a helmet -- has helped decrease the number of fatalities in recent years.
NHTSA said the number of motorcycle accidents and fatalities in 2009 were 106,000 and 4,595 respectively -- a 13% decrease in the total number of accidents since 2008. The organization has yet to compile data for 2010 or 2011.
To join the motorcycling masses, you'll need a motorcycle license (you're typically required to get a motorcycle license to drive a scooter that exceeds a certain engine size or miles-per-hour too depending on the state). But even after taking the mandatory training course and passing a test, not everyone is necessarily as aware as they should be about the dangers of scooter riding.