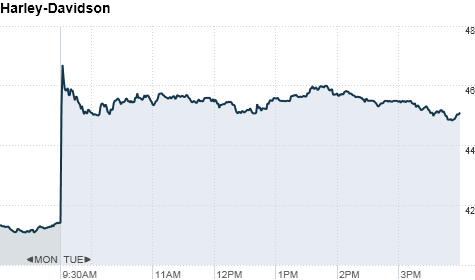 Click the chart to view Harley-Davidson's stock.
NEW YORK (CNNMoney) -- Harley-Davidson pulled a wheelie on Wall Street today. Shares of the motorcycle giant shot up 9% Tuesday after it reported that U.S. bike sales rose on an annual basis for the first time in nearly five years. Shares closed at $45.11, up $3.70 on the day.
Dealers sold more than 53,000 new motorcycles in the U.S. during the second quarter, up 7.5% from a year ago and the first year-over-year quarterly rise since the fourth quarter of 2006. Global sales climbed almost 6% during the period.
The strong sales helped the Milwaukee-based company boost its second-quarter profit nearly 40% from a year earlier to $190.6 million, or 81 cents per share, as overall revenues rose 18% to $1.34 billion.
The results blew past Wall Street's expectations. Analysts surveyed by Thomson Reuters were looking for the company to earn 71 cents per share for the quarter, on revenue of $1.26 billion.
Harley-Davidson (HOG, Fortune 500) also lifted its guidance for the year. The company expects to ship up to 235,000 new motorcycles to distributors worldwide this year, up 12% from 2010. At the end of the first quarter, Harley's most optimistic forecast called for an 8% rise in shipments for the year.