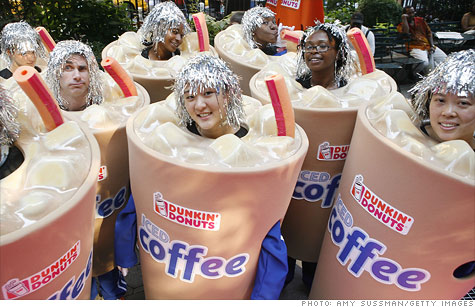 Dunkin' Brands, the parent of doughnut maker Dunkin' Donuts, traded above its IPO price Wednesday.
NEW YORK (CNNMoney) -- Dunkin' Brands made its debut as a public company Wednesday, with investors showing strong demand for the doughnut maker's initial public offering.
Shares of the parent company of Dunkin' Donuts and Baskin-Robbins started trading at $25 each, up 31% from the list price.
Dunkin' (DNKN) shares rose to a high of $27.70 in early trading on the Nasdaq.
The offering of over 22 million shares of common stock raised $423 million for the company. Dunkin' plans to use the IPO proceeds to pay down debt.
Dunkin' is majority-owned by a group of private equity investors including Bain Capital Partners, The Carlyle Group and Thomas H. Lee Partners. That group paid $2.4 billion for Dunkin' in a 2006 leveraged buyout, and retains about a 75% stake following the offering.
Stephanie Chang, an analyst at Greenwich, CT.-based IPO investment firm Renaissance Capital, said the offering was expected to do well.

"Dunkin is a well-known brand and a market leader with global reach," she said. Investors were also attracted to the company's "aggressive store expansion strategy," she added.
Dunkin' is well known in the Boston and New York regions, where the doughnut and ice cream franchise has expanded rapidly over the past few years. It currently has 6,799 locations in 36 U.S. states, and more than 3,000 stores abroad.
The company opened 200 new U.S. stores last year and plans to open another 200 to 250 locations this year. Its long-term goal is to operate 15,000 Dunkin' Donut franchises nationwide.
The company, whose stores are almost entirely franchise-owned, had total sales of about $7.6 billion last year, according to its prospectus.
In the first three months of 2011, Dunkin' and Baskin-Robbins franchises reported $1.8 billion in domestic and foreign sales, up slightly from last year.
Investors are betting the company's franchise model will help it continue expand rapidly, said Chang.
That's because franchisees pay most of the cost of setting up new Dunkin' Donuts or Baskin-Robbins locations. In addition, the company has little exposure to volatile commodity prices, since the store owners pay those costs too.
Despite the company's name, Dunkin' Donuts sells more coffee than fried dough.
In 2010, beverage sales made up 60% of total sales. The rest came from sales of baked goods, including doughnuts, bagels and sandwiches.
Dunkin's main competitors are McDonalds (MCD, Fortune 500) and Starbucks (SBUX, Fortune 500), which also sell coffee and baked goods. Its main rival in the doughnut business is Krispy Kreme (KKD).
The offering is the latest in a string of IPOs that have received a warm welcome from investors, including several unprofitable technology companies.
Chang said it's too soon to say how Dunkin' stock will perform after the IPO euphoria fades. But she added that investors have been nibbling on shares of other fast-food companies as the economic recovery slowly chugs along.
"The consumer space in general is an area where investors are showing a lot of interest," she said. "Hopefully that should sustain demand for the stock going forward."