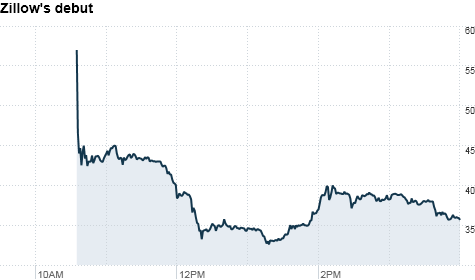 Click the chart for more on Zillow.
NEW YORK (CNNMoney) -- Shares of real estate site Zillow shot up 120% early in its public debut Wednesday, though they cooled a bit as the day continued.
Zillow (Z) priced its IPO late Tuesday at $20 per share. The stock quickly rose to $44 a share Wednesday, where it traded for most of the morning, before drifting as low as $32.50. The stock ended at $35.77, or 79% higher.
The company sold 3.46 million shares in the IPO, and the stock is trading on the Nasdaq under the ticker symbol "Z."
Zillow provides information about homes, real estate listings and mortgages through its website and mobile app. The company, which is based in Seattle, operates Zillow.com, Zillow Mortgage Marketplace and Zillow Mobile.
Unprofitable: Zillow has not yet turned a profit, just like many other Internet companies to make IPO filings this year, including Pandora (P) and Groupon.
Zillow revealed in its S-1 filing to the SEC that losses narrowed to $6.8 million in 2010 from a $12.9 million loss in 2009.
In the first quarter of 2011, Zillow lost $865,000. In the same quarter last year, the company lost $2.8 million.
On a revenue basis, Zillow took in $30.5 million in 2010 versus $17.5 million in 2009.
Zillow's IPO comes at a rocky period for the housing sector, which has yet to stage a sustained recovery. Earlier Wednesday, a real estate group's report showed sales of existing homes dipped in June as buyers unexpectedly backed out of contracts.
The underwriters of the Zillow IPO -- Citigroup, Allen & Co., Pacific Crest Securities, ThinkEquity and First Washington Corp. -- have a 30-day option to purchase up to an additional 519,300 shares.
After the IPO is complete, Zillow said it will sell 274,999 shares at $20 each to certain existing investors in the company.
In other IPO news Wednesday, headphone maker Skullcandy also made its public debut. But Skullcandy (SKUL) shares didn't get a Zillow-like pop. The stock was up 8% in early trading but ended completely flat, exactly at the initial price of $20.