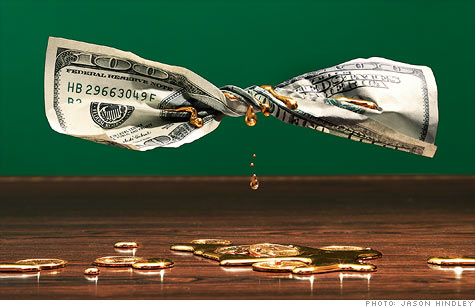 (MONEY Magazine) -- With savings rates hovering around record lows for the past two years, keeping your money parked in cash has become a losing proposition. After all, savings accounts now average just 0.17%; money-market funds, 0.01%; and even one-year CDs pay only 0.44% -- in a year you'll earn barely 50¢ for every $100 you invest. And that's before taxes, never mind inflation.
Sure, some banks are marketing tempting teaser rates and other gimmicks to lure savers, but these rarely deliver better returns over the long haul.
"When interest rates are low, people reaching for extra yield often end up taking risks with money they did not intend to put at risk," says Richard Barrington of MoneyRates.com.
Where can you earn a better return on savings without risking principal or access to your money? These four options fill the bill.
High-yield checking accounts
How to find them. Search Moneyrates.com's rewards checking section for the best yields nationally and by state; then contact the bank to verify the rate is available. Check Bankrate.com to make sure the institution earns at least three stars for safety.
Restrictions. Most banks limit how much of your balance can earn the top rate; $25,000 is standard. The highest yielders (up to 4%, typically available only at local banks) have lower caps ($10,000).
Best recent offer. 2.25% at Bank of Fayetteville. Though rates at Internet banks have dropped sharply over the past year, to just over 1% on average, they still rival four-year CDs (1.24%). But unlike CDs, you can withdraw your money anytime penalty-free.
Online savings accounts
How to find them. Search for "America's Best Rates" on Moneyrates.com to find banks that offer consistently high yields.
Restrictions. You're usually limited to six transactions per billing cycle.
Best recent offer. 1.16% at Discover Bank's web site.
Low-penalty long CDs
With short-term rates expected to rise as much as 1.5 percentage points by the end of 2012, you don't want to tie up your money for years to get a decent yield now -- especially since many banks (including Bank of America and Citizens Bank) recently have sharply increased their early-withdrawal penalties. The solution, suggested by Greg McBride of Bankrate.com and a favorite strategy of Colorado Springs financial planner Allan Roth: Seek out higher-yielding long-term CDs that don't dun you much for pulling out early.
Send The Help Desk your questions about savings rates.
How to find them. Check long-term CD rates at Bankrate.com. Click on the offer's terms and conditions to find the withdrawal penalty, preferably less than six months' interest.
Restrictions. Some banks reserve the right to change their penalties after you open the account. Read the offer's fine print to steer clear of these CDs.
I bonds
Best recent offer. Withdraw after one year from Ally Bank's five-year 2.32% CD and you'll earn an effective yield of 1.94% (see Ally's web site for details).
The rate on government-issued I bonds, reset twice a year to keep pace with inflation, is currently a whopping 4.6% on an annualized basis, owing to the recent spike in gas prices (that's up from just 0.74% earlier this year).
If you buy an I bond before rates are adjusted again on Nov. 1, you'll nab that 4.6% rate for the next six months; even factoring in the penalty for cashing in the bond before five years, you'd be guaranteed to earn a minimum 2.3% if you pull your money out after 12 months, says Ken Tumin of DepositAccounts.com. And if the new rate is higher than zero, you'll earn more.
How to buy. You can buy I bonds at the TreasuryDirect web site or most banks. Note that as of January 1, 2012, you'll only be able to buy paper I bonds through your tax refund.
Restrictions. You can't redeem for at least one year. Your investment is limited to $10,000 annually ($5,000 at TreasuryDirect; $5,000 at a bank).
Recent rate. Buy now to earn at least 2.3% after one year.