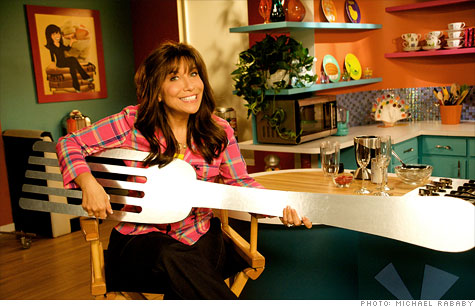 Put a fork in it: Hungry Girl, or Lisa Lillien, has made a mint from her website, books, newsletters and TV show, which tell people how to make great-tasting, low-calorie dishes.
NEW YORK (CNNMoney) -- Lisa Lillien has found consumers are starving for information on great-tasting, low-calorie food. By providing the skinny on guilt-free eating, the 45-year-old entrepreneur has transformed her popular Hungry Girl brand into a lucrative financial empire.
When Lillien launched her Hungry Girl website and free daily e-newsletter in 2004, she had 100 followers composed mainly of friends and family. Today, the former media executive for Nickelodeon and Warner Brothers has 1.1 million loyal subscribers, over 400,000 Facebook fans, and a staff of 12.
The author of five "New York Times" bestsellers, Lillien inked a reported eight-figure, multi-book deal last year with St. Martin's Press, and on Aug. 7, the second season of her popular television show debuts on the Food Network.
She is also set to release her first co-branded product in August: a line of low-calorie artisan flatbreads called The Hungry Girl Flatout Foldits that will be sold in Wal-Mart stores across the country.
With her e-newsletter continuing to draw in 1,000 new subscribers each day, and her latest cookbook, "300 Under 300: 300 Breakfast, Lunch, and Dinner Dishes Under 300 Calories" (St. Martin's Press), released in March continuing to rank high on the New York Times Bestseller List, the Hungry Girl said entrepreneurs need to stay focused, or hungry, if they want to succeed. Following are some of her other tips.
Find your niche. After I lost 30 pounds in 2003, I became a food sleuth by perusing labels and even going so far as to have the calorie counts of my favorite "low-fat" pastries verified at a food lab.
When I discovered those 'guilt-free' pastries had twice as many calories as they claimed, I decided to start a business where I could share this kind of information with others. I always say I'm not a dietician, I'm just hungry, and that my readers turn to me for information on how to eat healthy without sacrificing taste.
Make your website a popular destination. It's not enough to just build a business website and assume it will automatically attract consumers. We continually work to draw traffic to our website through promotion in our daily e-newsletters. We also strive to make it fun and fresh with animated graphics, good content, and new recipes so our fans will visit the site often.
Leverage social media. When I saw how much interest my Facebook page was generating, I decided to use it to create a community with our customers. I write the daily updates myself and fans appreciate that they are communicating with me, not just someone I've hired to maintain the site.
I find it so much easier to post new information on Facebook, and to answer questions from fans rather than trying to personally reply to 200 to 300 e-mails each day. Facebook and Twitter have proven to be our best resource for getting feedback from consumers.
Create unique ads. Newsletter ad sales are the core of our business, but it's never been my goal to do a hard sell with our readers. In the beginning, we had advertisers coming to us through word of mouth, and eventually I hired an ad sales director.
We encourage companies to run ads in the form of a coupon or recipe, so our readers don't perceive them as intrusive. As a result, both our readers and advertisers are happy, and our advertisers are all repeat customers.
Maintain brand integrity. We never accept ads or enter into relationships with companies or products that we don't fully endorse. Many of our advertising relationships, such as those with Laughing Cow, Fiber One and Yoplait, originated as the result of their products being featured favorably and independently in unpaid editorial content.
When these products are featured in editorial, those mentions are not paid for or sponsored. If we mention a specific product, it's because that's the one that tastes the best.