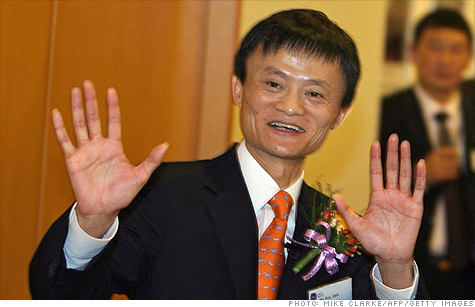 Alibaba CEO Jack Ma
NEW YORK (CNNMoney) -- Yahoo has finally come to an agreement with Chinese Internet giant Alibaba in a months-long battle over the ownership of payment site Alipay.
Yahoo (YHOO, Fortune 500) owns about 40% of Alibaba, which itself owns Yahoo China -- as well as three massive Chinese properties including Alipay. That stake is one of Yahoo's bright spots, so investors weren't pleased when uncertainty developed over Alipay.
Back in May, Yahoo disclosed to the SEC that Alibaba had transferred 100% of its ownership of its e-commerce site, Alipay, to a new company controlled by Alibaba CEO Jack Ma.
Yahoo scrambled to clean up the mess with a statement saying it was not made aware of the asset transfer until March 31 -- and that it "occurred without the knowledge or approval of the Alibaba Group board of directors or shareholders."
Alibaba disputed those claims, saying the transfer was discussed at several board meetings as long as three years ago.
Yahoo shares plunged over that week as the news continued to develop. Investors wondered why Yahoo was so out of the loop, and they questioned whether the company could retain its relationship with Alibaba.
A few weeks later, at Yahoo's analyst day, executives declined to answer most questions about Alibaba. Yahoo CEO Carol Bartz said several times that Yahoo "had an agreement with Alipay that none of us were going to discuss the past, and we're sticking to that."
Then, at Yahoo's annual shareholder day in June, stakeholders slammed the company for its handling of the Alibaba situation.
The announcement of the deal seemed to please investors early Friday, as Yahoo shares rose 6% in premarket trade. But the stock reversed course once the market opened and was down 2% in late morning trading as the broader market fell following a weak GDP report.
Terms of the deal: Under the terms of the deal, which also includes Japanese Internet firm and Alibaba investor Softbank, Alibaba will receive between $2 billion and $6 billion for an initial public offering of Alipay or any other type of Alipay liquidation.
In addition, Alibaba Group will license some technology services and intellectual property to Alipay. In return, Alipay will pay royalties to Alibaba.
The deal is expected to close by the end of 2011 and must be approved by regulators.
JPMorgan analyst Doug Anmuth said in a note to clients Friday that he is retaining his "neutral" rating on Yahoo.
"The agreement provides a definitive range of outcomes for the eventual monetization of Alipay, while also clearing an overhang on [Yahoo] stock," he wrote.
Anmuth noted that there is "very little visibility" into a timeline for an Alipay IPO, but as a major stakeholder Yahoo "can force a liquidity event after 10 years."
The Alipay battle is hardly the first time Ma, the Alibaba CEO, and Bartz have butted heads. In September, Alibaba offered to buy back Yahoo's stake for about $11 billion. Yahoo declined.