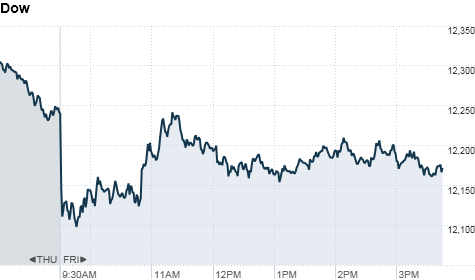 Click the chart for more market data.
NEW YORK (CNNMoney) -- Stocks ended Friday's session sharply lower, posting their worst weekly performance in more than a year, as investors grow increasingly worried that Washington may not reach a deal to raise the debt ceiling before the deadline.
At the preliminary close, the Dow Jones industrial average (INDU) fell 97 points, or 0.8%, to close at 12,143. Friday's selling was broad, with 28 out of the Dow's 30 members trading in the red. The blue chips were led lower by shares of drug maker Merck (MRK, Fortune 500) and technology company Hewlett-Packard (HPQ, Fortune 500).
For the week, the Dow sunk 4.2% -- its worst weekly performance since June 2010.
The S&P 500 (SPX) traded down 8 points, or 0.7%, to 1,292; and the Nasdaq Composite (COMP) lost 10 points, or 0.4%, to 2,756. The S&P 500 dropped 3.6% and the Nasdaq lost 3.9% for the week.
Along with the debt ceiling, investors had to work through a disappointing government report showing the U.S. economy grew at a 1.3% annual rate in the second quarter. The data was far worse than expected.
"The GDP number was nothing short of a disaster and worse," said Dave Rovelli, managing director of US equity trading at Canaccord Adams. "We went from little growth to no growth."
America's Debt Crisis: Investors remained unnerved after House Speaker John Boehner delayed a vote late Thursday on his plan to raise the debt ceiling. However, after the initial delay, Boehner's bill now has the votes to pass the House. Republican leadership apparently agreed to attach a balanced budget amendment to Boehner's bill to help court the Tea Party.
The market's fear factor -- the CBOE Market Volatility Index (VIX), commonly called the VIX -- jumped up 8.2% in part on both the GDP and debt ceiling news. That's still below 30, which denotes high fear in the marketplace, but the index has shot up more than 46% in just the past five days.
"People are just crossing their fingers that these morons in Congress will get a deal done by Monday," Rovelli added.
But even if Boehner's plan does pass the House, Senate Majority Leader Harry Reid has promised the Democratic-controlled Senate will block it, and President Obama re-emphasized on Friday that he would veto it.
But investors are mostly positive that a deal will get done.
"There's enough ideas in all the bills that have passed in the House and the Senate, that we can cobble something together that everyone can agree to," Orlando said.
Bonds: The price on the benchmark 10-year U.S. Treasury rose, pushing the yield down to 2.83% from 2.95% late Thursday.
Short-term Treasuries saw moderate selling on Friday, as investors pulled money out of securities that would likely be the first affected by a government default. The yield one-month T-bill was up to 0.18% from 0.15% Thursday.
Currencies and commodities: The dollar strengthened against the euro and British pound, but weakened against the Japanese yen.
Oil for September delivery fell $1.74, or 1.8%, to $95.70 a barrel.
Gold futures for August delivery jumped $14.90, or 0.9%, to $1,628.30 an ounce. Earlier in the session, gold hit an intraday record of $1,634.90 an ounce.
Companies: Drugmaker Merck (MRK, Fortune 500) said it plans reduce its workforce by 12% to 13% from 2009 levels by the end of 2015, as the next phase of a restructuring program. Shares fell 2%
Shares of Newell Rubbermaid (NWL, Fortune 500) rose 8% after the company said it earned 46 cents a share in the second quarter, beating forecasts by four cents. The household products company also lowered its full-year guidance, citing higher commodity costs and weaker sales.
Shares of online travel site Expedia (EXPE) jumped 9%, after the company reported better-than-expected earnings.
Economy: The Chicago purchasing managers index fell to a reading of 58.8 in July. Economists had expected a reading of 58, according to Briefing.com. The level still indicates an expansion in the region's manufacturing activity.
World markets: European stocks fell moderately on Friday. Britain's FTSE 100 lost 1%, the DAX in Germany was off 0.4% and France's CAC 40 slid 0.9%.
In a widening of Europe's debt crisis, Moody's said it may downgrade Spanish debt. The credit rating agency said that while the country's sovereign rating was being placed under review, any downgrade would most likely be "limited to one notch."
Asian markets ended lower. The Shanghai Composite edged down 0.3%, the Hang Seng in Hong Kong fell 0.6% and Japan's Nikkei declined 0.7%.