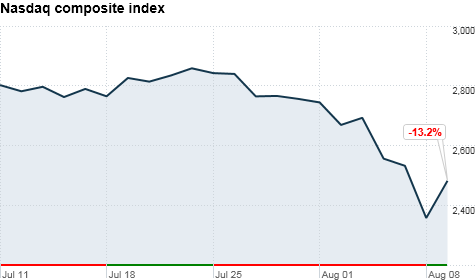 NEW YORK (CNNMoney) -- The stock market slump over the past two weeks took down a number of tech giants that had otherwise avoided the overall market volatility. But the good news for investors is that the depressed stock prices made for some good, cheap buys on Tuesday.
"This is a good buying opportunity," said Colin Gillis, analyst at BGC Partners. "Of course, the only question is if we have a tighter consumer environment, will people be more reluctant to buy iPads?"
Investors decided to take their chances, and shares of tech stocks edged higher Tuesday after about 10 straight sessions of declines. The tech-heavy Nasdaq composite index (COMP) rose more than 5%.
Techs didn't join the overall market slump immediately: The Dow Jones industrial average has been tumbling since July 21, but most tech stocks began to slide on July 26, following a handful of disappointing financial reports.
"Tech stocks are collateral damage of the global slowdown and broader concerns," said Patrick Wang, analyst at Evercore Partners. "Similarly, today's gains aren't because of anything fundamental."
Apple (AAPL, Fortune 500), Google (GOOG, Fortune 500), and Microsoft (MSFT, Fortune 500) had all tumbled more than 10% since July 26 -- but the three behemoths' shares all gained on Tuesday. Compared to their anticipated annual earnings per share, all three stocks are relatively "cheap," with P/E ratios in the low double-digits even before their slide began.
Interestingly, even though Apple's stock remains $30 off its all-time high, ExxonMobil's (XOM, Fortune 500) recent tumbling in share price mean that Apple is very close to becoming the highest-valued stock on the market. For a few brief moments on Tuesday, Apple actually passed Exxon in market cap.
Even Amazon wasn't immune to the tech stock declines. After reporting stellar earnings and hitting an all-time share-price high on July 28, the company's stock fell 12% in subsequent days. Amazon (AMZN, Fortune 500) gained 6% Tuesday.
Microchip stocks -- which have been hammered over the past two weeks -- gained back less ground than their other tech peers on Tuesday. Intel (INTC, Fortune 500), Texas Instruments (TXN, Fortune 500) and Qualcomm (QCOM, Fortune 500) all lost between 12% and 16% during the slide, but gained back between 2% and 5.5%, slightly below most of its tech peers.
"The broader semiconductor market is still relatively soft," Wang said. "That's not the reason shares were taken down, but there's no clear sign that anything positive is happening in the tech supply chain."
Networking stocks were among the hardest hit -- and then made the strongest comebacks on Tuesday. Juniper Networks (JNPR) had fallen 50% since issuing a weak outlook on July 26, but it rose 7% Tuesday. F5 Networks (FFIV) had dropped 30% but gained 2% today. The much larger and diversified Cisco (CSCO, Fortune 500), which has gotten slammed all year, fell a more modest 12% over that period and was up less than 1% on Tuesday.
PC makers Hewlett-Packard (HPQ, Fortune 500) and Dell (DELL, Fortune 500) were up a bit after falling 18% each over the past couple weeks. Weak PC sales have been hurting all PC manufacturers this year. But even software giants like Oracle (ORCL, Fortune 500) were affected by the tech stock swoon, tumbling 19% before bouncing back strongly with a 6% gain today.
Wireless giants Verizon (VZ, Fortune 500) and AT&T (T, Fortune 500) fell a modest 9% and 7%, respectively, during the slide, but smaller rival Sprint has tanked 38% after reporting dismal earnings results two weeks ago. Sprint (S, Fortune 500) rose 5% Tuesday.
Online content companies have also gotten slammed, with Yahoo (YHOO, Fortune 500) tumbling 18% and AOL (AOL) sinking 28% over the past two weeks. But the two stocks traded in opposite directions Tuesday: Yahoo gained 9% and AOL tumbled another 11% after reporting dismal financial results.
Netflix (NFLX), which reported disappointing sales and warned about sluggish customer growth a day before the overall tech slide began, had fallen 14%. But shares bounced back Tuesday, gaining 5%.
And LinkedIn (LNKD), which recently had a jaw-dropping IPO, fell back to Earth during the big tech slide. It had fallen 26% since July 26. But investors fell back in love with the social network Tuesday, sending shares back up 11%.